A national day of mourning has been declared in Kazakhstan. On 27 December, shortly after taking off on schedule at 7:05 am from Almaty and bound for Nur-Sultan, a plane of the local low-cost airline Bek Air carrying 93 passengers (earlier announcements stated 95) and 5 crew members went down and struck a building in the region of Guldala village close to Almaty airport.
According to the most recent information, 12 people have been killed (an earlier announcement spoke of 15 victims) and more than 30 injured passengers have been taken to four hospitals around Almaty. Instead of getting ready to celebrate the new year, Almaty residents have found themselves queueing up to give blood.
It has emerged that the plane never really managed to complete its take-off. Kazakhstan's Deputy Prime Minister Roman Sklyar stated that the tail of Fokker 100 aircraft twice made contact with the runway, leaving traces around 3 to 400 metres apart. When it reached the end of the runway, the plane tipped to the right, smashed through a fence and struck a building, splitting into three parts. Most of those killed were sitting in the front end of the plane.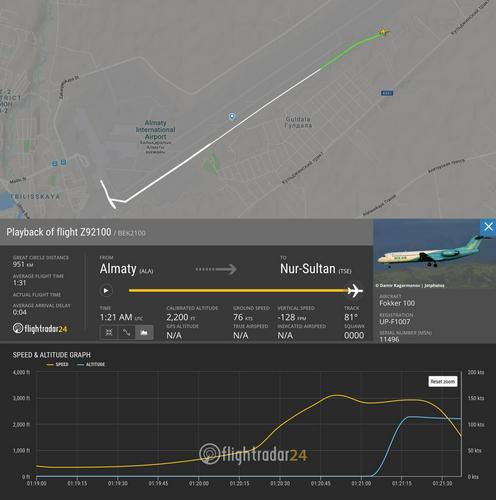 A map of the crash location. Photo from Twitter.com/flightradar24
Many will say that this was a disaster waiting to happen. Bek Air, with its official slogan "the people's airline", has frequently been criticised for its attempts to cut costs at the expense of passenger safety. Critics have drawn attention to its use of more than 20-year-old Fokker 100 aircraft, its neglect of 'annoying' procedures like pre-flight safety demonstrations, and its successful campaign against the international auditing of Kazakh aircraft, which allowed it to undertake commercial flights without being approved by the International Air Transport Association.
Top Kazakh general and a journalist among the dead
Almaty Airport, where the plane was flying from, at first announced that the aircraft went missing from the radar, and later that it had crashed into a two-storey building just outside the airport grounds. Among those killed are the chairman of the Generals' Council of Kazakhstan, Major-General of Justice and distinguished former employee of Internal Affairs Ministry of the USSR Rustem Kaydarov, and the 35-year-old journalist and managing editor of the website Informburo.Kz Dana Kruglova. Among the passengers were four foreigners – two Ukrainian citizens and one each from Kyrgyzstan and China, none of whom are among the dead.
Among the injured are seven children. 3-year-old Adina N. suffered a closed fracture of the hip joint and 14-year-old Maryam N. a closed traumatic brain injury and bruising to the lower left leg. 8-year-old Ali Zh. received a broken femur. Two baby girls whose names have not been given, one around a year old, the other 4 months, suffered closed traumatic brain injuries. Nine-month-old Abilzhan G. and five-year-old Aigerim are also being treated for the same injury.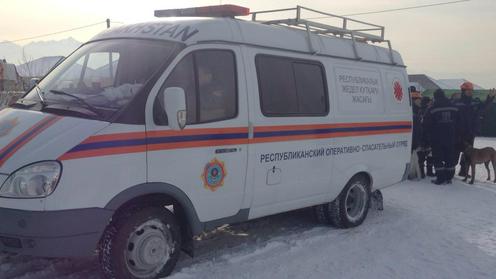 Rescue operations at the crash site. Photo from emer.gov.kz
The children were taken to Almaty Children's Hospital No.1. The remaining injured with knee injuries and broken arms and legs were transported to City Hospital No.4, Almaty Accident and Emergency Hospital and Almaty Multidisciplinary Clinical Hospital.
Bek Air banned from flying
The Kazakh authorities immediately banned all flights by the Fokker 100 model, a medium-haul passenger plane built by a Dutch aircraft manufacturer. In practice, this means an immediate suspension of operations for Bek Air, the whole of whose fleet is composed of precisely this model of aircraft. Production of the Fokker 100 in fact came to a stop back in 1997. The factories which produced spare parts for it have closed, and finding replacement parts is no easy matter.
Based in the airport at Oral, Bek Air flies to the 12 largest cities in Kazakhstan, including Nur-Sultan, Almaty, Shymkent and Pavlodar. The company's last reported incident – an emergency landing at Taraz airport – occurred on 20 February 2018, with no injuries. Yet Bek Air is also the owner of the oldest fleet in Kazakhstan: seven Fokker 100 planes with up to 108 seats. According to enquiries made by Informburo, all of the company's Fokker 100 aircraft were built before 1995.
The airline's website states that "this is a very reliable aircraft model, meeting all safety standards", and that "around 800 Fokker aircraft of various models, including jet aircraft such as the Fokker 100, are currently in operation all around the world". To confer an extra veneer of authority on the company's claims, reference is made to the purported "construction philosophy" of the Dutch aircraft designer Anton Fokker, the founder of the Fokker company who died in 1939.
Online reviews, however, suggest that the airline's cabin crew frequently neglected safety routines that many passengers often find annoying: they failed to provide safety demonstrations before take-off, did not distribute safety belts for children and did not check that passengers had secured their belts for landing.
According to the Russian news site Bombus, the crashed plane had the registration number UP-F1007 and was 23 years old. Following production in 1996, the plane flew in Thailand, and between 2009 and 2012 it was operated in Germany by the airlines Contact Air and OLT Express Germany. In 2013 it was sold to the Kazakh company Bek Air.
A brief history of Fokker 100 disasters
Over the whole of the model's flight history, from 1986 to 2019, 17 Fokker 100s have been lost in aviation disasters or other serious accidents. Excluding forced and emergency landings resulting from production faults or human error, the aircraft has been involved in three full aviation disasters – in 1993, 1996 and 2012 – including one of the biggest disasters in the history of Brazilian aviation.
On 5 March 1993, an airplane flying from Zurich to the North Macedonian capital Skopje crashed due to icing on the wing. 83 people died – 79 passengers and 4 crew – and 14 survived.
On 31 October 1996, 24 seconds after take-off, the right engine of a plane that was due to fly the Sao Paulo–Rio de Janeiro–Recife route unexpectedly reversed thrust while the aircraft was climbing. The plane crashed in a densely-populated residential area of Sao Paulo, killing all 95 people on board (89 passengers and 6 crew) as well as 4 people on the ground.
On 25 December 2012 in Myanmar, a plane carrying passengers from Yangon to Heho (in Shan State) performed an emergency landing in fog on a rice field not far from the runway at Heho and burst into flames. One passenger died, together with a motorcyclist hit by the plane, and a further ten people received serious injuries.
Cutting costs on safety
Passengers have forgiven the Kazakh lowcoster a great deal on account of its low prices, while aviation experts have been critical of its low safety standards. In 2015, the airline lobbied against obligatory safety auditing by the International Air Transport Association and contested Kazakhstan's Rules of Certification of Aircraft Operators, according to which companies that have not undergone such an audit are not permitted to carry passengers. Bek Air's General Director Askar Umutbekov directed an official complaint to the office of the country's prosecutor general.
The reason given by the airline was that the audit and subsequent certification would prove too expensive, and that the lowcoster, which advertised itself as the operator with the lowest fares in the country, did not want to add these costs to the price of a flight. Bek Air maintained that for domestic flights it was sufficient to follow the standards of the ICAO (International Civil Aviation Organization) and government licensing for commercial flights.
When the dispute became public, customers praised the airliner for its cheap prices and organised a flash mob in its support, though branch insiders denied that the auditing would entail significant costs and instead attributed Bek Air's reluctance to undergo an audit to the airline's ageing fleet. In the end the country's Civil Aviation Committee changed its regulations and removed the requirement for IATA auditing, following which Bek Air withdrew its complaint. Now questions will be raised not only about the airline, but about the actions of the committee too.