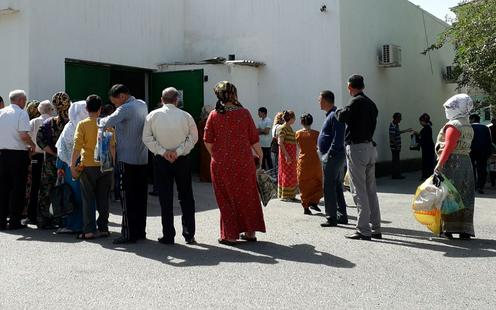 Queuing at a store in Turkmenistan. Archive photo from azathabar.com)
State-run stores located close to roads in the Turkmen capital of Ashgabat have begun to hide the queues building up outside their doors, Radio Liberty's Turkmen website Azatlyk reports (in Russian).
According to the news site's sources, store entrances that are visible from the road are now locked. Customers are required to knock on the door. A store worker will then open the door and ask them to join a queue in the rear courtyard of the building. Often, several dozen people are already waiting there. Store managers are explaining the new measures with the fact that "visitors to Turkmenistan should not see the build-up of people outside grocery stores".
Independent media outlets in the country say that shortages in state-run stores in Turkmenistan have been going on for several years. Officially, however, it is claimed that the country is experiencing an "era of power and happiness". Previously, the authorities have attempted to hide the existence of queues from the country's independent media, banning the photographing of people outside stores. But this is the first time it has been reported that queues have been moved to the back of the stores.
On 7 February this year, a change of mayor took place in Ashgabat – former mayor Shamukhammet Durdylyev became the country's deputy prime minister, and his place was taken by Yaztagan Gylydjov (who began his career as head of one of Ashgabat's city districts before being transferred to the provinces). Since then, there have been a number of media reports of harsh decisions on the part of the municipal authorities. State institutions in Ashgabat were ordered to fire all employees registered in other towns and cities, and private residents were told to remove gates from their properties.
State-run stores in Turkmenistan have been retained since Soviet times. Private stores do exist in the country, but the products on sale there are too expensive for the majority of the population. The average citizen can only afford to purchase items from private stores on rare occasions. The supply of goods to state-run stores is tightly controlled by the government, but there are nevertheless frequent shortages.