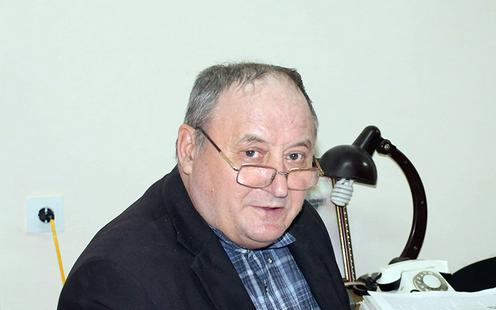 Vladimir Kaloshin. Photo from family archives
A military court in Uzbekistan has sentenced Vladimir Kaloshin, a former reporter with the newspaper of the country's defence ministry Vatanparvar (Patriot), to 12 years in prison on charges of treason, Kaloshin's daughter Anastasia Yepisheva has told Fergana.
The sentence was passed on 4 March. Kaloshin had contested the charges but was pronounced guilty under article 157 of the criminal code of Uzbekistan (Treason). He has been stripped of the rank of lieutenant colonel in the Uzbek army. Kaloshin's wife was not permitted to see him after the sentence was delivered.
Vladimir Kaloshin is a retired military serviceman with a category 2 disability. He retired from his position at the newspaper Vatanparvar, which he joined in 1992, sometime around 2007. In the early morning of 2 July 2019, he was arrested by officers of the National Security Service (NSS). For three days after his arrest, Kaloshin's family were given no news of what had happened to him, and only later on did it become clear that he was being held in pre-trial detention by the NSS.
An informed source in Tashkent has previously told Fergana that, as a senior officer, and especially in his capacity as correspondent for Vatanparvar, Kaloshin would have had access to information that was of interest to foreign intelligence services. He would not have had access to top secret information, such as matters of overall strategy, but would have regularly accessed information about things like training exercises, the position of troops, or even just regular personnel information. Such a source would not have been foreign intelligence services' top choice of informant, but in the absence of access to higher up officials, they would have cultivated someone like him as a valuable alternative to openly accessible information.
However, Fergana's source continued, any conclusions from this as to Kaloshin's possible activity as a spy "come up against a big 'but'". Military officers lose their access to classified information immediately upon leaving their jobs. For another five years, they may be of interest to foreign intelligence agencies and so be subject to the attention of domestic security services. After this time, however, classified information generally becomes so out-of-date as to be practically useless. Having retired in 2007, Vladimir Kaloshin's "best before date" in the world of espionage expired in 2012, in other words a full seven years before his arrest.
Kaloshin's closed-doors trial began on 7 February and questions have been raised about both the trial itself and the investigations that preceded it. According to his family, from the very start of his detention, Kaloshin has been subjected to psychological torture. He was threatened with physical reprisals against his children, his grandchildren and his wife if he did not cooperate. Kaloshin directed a written complaint of torture to the court, requesting that it take this into account in passing sentence.
Kaloshin's relatives also claim that he was held unlawful after his maximum legal pre-trial detention period expired on 1 December 2019, without any court ruling to extend it. Once at court, they say, judges declined all of the defence's petitions, including for the hearing of evidence that had been deemed significant by the preliminary investigation and the calling of defence witnesses and expert testimony. The presiding judge convened sessions almost every day since the start of the trial, regardless of the ability of members of the defence team to attend proceedings.
According to Kaloshin's family, neither during initial investigations nor during the trial itself did prosecution witnesses provide any direct or circumstantial evidence to support the charges against him.