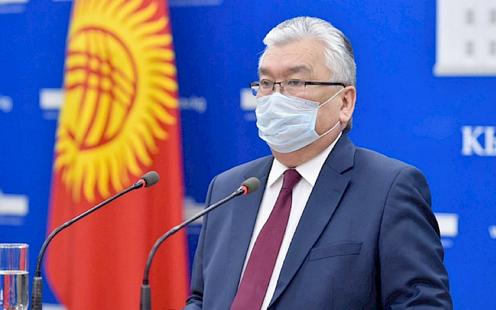 Sabirjan Abdikarimov. Photo from Elgezit.kg
Amid a wave of pneumonia cases in the country, Kyrgyzstan's health minister Sabirjan Abdikarimov and his deputy Nurbolot Usenbaev are both now suffering with the illness, 24.kg writes (in Russian), citing sources in the health ministry.
Another deputy health minister, Madamin Karataev, who frequently conducts the ministry's press conferences on COVID-19, is said to be experiencing shortness of breath, according to the source.
On the recent surge of pneumonia cases in Kyrgyzstan and the spate of cases of pneumonia and COVID-19 among prominent Kyrgyz politicians we have written earlier. Today it was reported that Ata-Meken party leader Omurbek Tekebaev has fallen ill and his wife hospitalised with a confirmed COVID-19 diagnosis. Earlier this week, ex-speaker of parliament Chynybek Tursunbekov died of pneumonia. Former president Almazbek Atambaev has now been moved back to his detention cell from hospital after previously being diagnosed with pneumonia. The country's Supreme Court has apparently suspended all sessions after a number of judges and employees tested positive for the coronavirus.
Previously, the Kyrgyz health ministry has insisted on only including patients with confirmed PCR test results in its official coronavirus statistics, despite the fact that these tests are far from 100% reliable. The surge in pneumonia patients with negative PCR tests, however, has apparently brought a change of tack. Earlier this week, Prime Minister Kubatbek Boronov acknowledged that the rise in pneumonia cases was being caused by COVID-19, and yesterday a health ministry spokesman stated that pneumonia patients would henceforth be included in the country's official coronavirus statistics.
This does not appear to have happened yet, however. Yesterday, for instance, 13 people are recorded as having died from COVID-19. A further 44 pneumonia patients, though, also passed away. Today the official death toll stands at 4, while 42 people have also died from pneumonia.
Unlike neighbouring Kazakhstan and Uzbekistan, which are also grappling with worsening epidemiological situations following the lifting of previously successful lockdowns, Kyrgyzstan has so far resisted reintroducing a nationwide lockdown. Bishkek has reimplemented a number of restrictions and a number of major shopping centres and markets in the capital have also voluntarily opted to close. Campaign rallies and meetings ahead of this autumn's parliamentary elections, however, are still permitted. 42 parties have declared their intention to participate in the ballot, for which the threshold has been reduced from 9% to 7% following fears that many major parties might not make it into parliament. As previously covered in a long article on this site, this year's elections remain extremely hard to predict, as there is no clear favourite to emerge as the new party of power following the disintegration of Atambaev's SDPK.