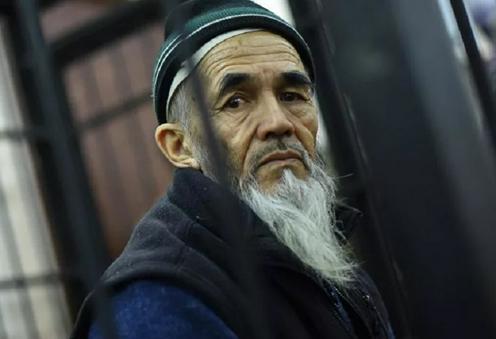 Azimjan Askarov . Photo from Sputnik
Human rights defender Azimjan Askarov, currently serving a life sentence in a Kyrgyz prison, is seriously ill. Fergana's general director Daniil Kislov reported the news today on his Facebook page (in Russian).
According to Kislov's own source, Askarov has had a high temperature for ten days already. He is having difficulty breathing and rarely leaves his bed. No particular diagnosis has yet been given and he is not being provided with any medical help.
Kyrgyzstan is currently experiencing a sharp deterioration of its situation with COVID-19. Between March and May, Bishkek and other major cities were under lockdown and confirmed coronavirus cases were few, with the country's death tally not even reaching double figures. On 11 May, however, the lockdown began to be lifted on account of acute economic problems. The number of COVID-19 infections and deaths subsequently rose dramatically, as have cases of "community-acquired pneumonia" without positive coronavirus test results. The Kyrgyz health ministry has now unified its statistics for confirmed coronavirus cases and cases of pneumonia, acknowledging that the vast majority of pneumonia cases are undiagnosed COVID-19. To date, 1,037 people have died from the two illnesses.
Askarov was sentenced to life imprisonment following the inter-ethnic clashes which occurred in the south of Kyrgyzstan in 2010. Prosecutors alleged that the ethnic Uzbek rights advocate urged people to take part in the mass disturbances and was involved in the murder of a police officer. The opinion of other rights advocates – shared by the UN Committee on Human Rights – is that Kyrgyz law enforcement agencies fabricated the case against Askarov in revenge for his previous efforts to call attention to their human rights abuses. Major international human rights organisations such as Amnesty International, Civil Rights Defenders, the Committee to Protect Journalists, the Helsinki Foundation for Human Rights and Human Rights Watch have all spoken out in Askarov's defence.
All of the activist's appeals, however, have been rejected, and the UN Human Rights Committee's demands for his release have fallen on deaf ears. Just last month, the Bishkek Administrative Court refused to consider a lawsuit filed on Askarov's behalf against the Kyrgyz government for ignoring the demands of the UN. A few weeks ago, the Kyrgyz parliament approved a series of amendments to the country's criminal legislation removing a requirement for cases to be reviewed if international organs rule that a human rights violation has occurred.
Askarov is 69 years old, meaning that he is in a risk group for COVID-19.