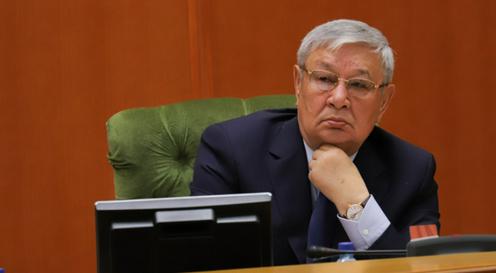 Musa Yerniyazov
The chairman of the parliament of the autonomous republic of Karakalpakstan and deputy chairman of the Oliy Majlis (parliament) of Uzbekistan, Musa Yerniyazov, has died today in Nukus from COVID-19.
He was 73 years old. Erniyazov had been in a serious condition for several days and was connected to a ventilator.
Premature reports of Yerniyazov's death had previously instigated a mini-storm in Uzbekistan earlier this week after Karakalpak police heavy-handedly dragged numerous local journalists and bloggers in for late-night questioning for publishing and spreading false news. Six police cars were apparently sent to arrest the editor of one local news site, who was eventually let home after questioning at 4 am. One blogger who was taken in for questioning said that police had demanded he provide a "licence" for his blogging activities. "I don't think they understand what blogging is," Sultanbek Ziyaev told Gazeta.uz. Central government officials have since denounced police actions as "incompatible with the policy of openness being implemented by the President of Uzbekistan and reforms in the area of the freedom of speech" and said that the local prosecutor's office has been made to apologise to the journalists in question.
As Uzbekistan's coronavirus situation worsens, Yerniyazov was far from the only top official reported to be undergoing treatment for the infection. On Thursday, chief sanitary inspector Nurmat Otabekov, who has long been the face of Uzbekistan's COVID-19 response, was diagnosed with the virus and hospitalised, though he is said to have a mild form of the infection. The very same day, Deputy Prime Minister Uktam Barnoev and Bukhara region hokim (governor) Karim Kamolov were hospitalized in Tashkent with COVID-19. Several days previously, Surkhondaryo hokim To'ra Bobolov had also tested positive and been transferred to Tashkent for treatment. Bobolov is currently said to be making a recovery and, as with Otabekov, many of these hospitalisations are likely to be of a precautionary nature.
On Wednesday, however, deputy finance minister Yorqin Tursunov passed away with COVID-19. A few days before this, the hokim of Karakalpakstan's Qonliko'l district, Daulet Tolibaev, also died of the virus, as did former Karakalpakstan head prosecutor and former Uzbek deputy prosecutor-general Hakimbay Halimov.
The death of famous singer and composer Ruslan Sharipov earlier this week has been attributed to a heart attack, while the of passing of other high-profile cultural figures during July, such as poet Shukrullo Yusupov, state opera and ballet theatre artistic director Zubaydullo Batyrov, and actor Abduraim Abduvhobov, have also not been officially ascribed to the coronavirus.
On 28 July, meanwhile, Uzbek president Shavkat Mirziyoyev made his first public appearance in a medical face mask. The wearing of face masks in public was original made obligatory in Uzbekistan on 23 March this year, with fines introduced for failing to do so. Despite months of being surrounded by subordinates in face masks, Mirziyoyev has previously refrained from donning one himself. The same approach has been taken by Kyrgyz president Sooronbay Jeenbekov. Kazakhstan's Qasym-Jomart Toqaev and Tajikistan's Emomali Rahmon, in contrast, frequently appear in public wearing face masks. Turkmen president Gurbanguly Berdimuhamedow, too, seems to have taken to wearing masks since the Turkmen health ministry made the practice obligatory to protect not from the coronavirus, but from "harmful dust".