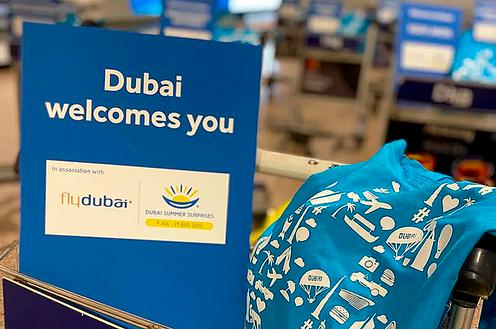 Image from flydubai.com)
Tajikistan has resumed commercial flight connections with the United Arab Emirates' largest city, Dubai. The first flight from Dubai will land in Dushanbe on the night of 5 August and will be carried out by the airline Flydubai. The news was reported by Asia-Plus (in Russian), citing Dushanbe international airport's press secretary, Jamila Huseinova.
While Flydubai used to operate this flight five times a week, Huseinova said that only one flight is currently scheduled to take place each week. According to Flydubai's website, a ticket for the first flight currently costs $874. Tajik airliner Somon Air will also fly from Dushanbe to Dubai, with the first flight scheduled for 6 August, though the company's website does not yet appear to be showing flights for August.
According to a Somon Air press release cited by Asia-Plus, passengers travelling to the UAE will have to provide a medical certificate, obtained within 72 hours before take-off, confirming that they do not have COVID-19. Face masks and gloves are obligatory. Passengers with a high temperature or showing signs of being unwell will not be permitted to board the plane.
On arrival in Tajikistan, all passengers (with the exception of members of the diplomatic corps, representatives of international organisations with special status and guests invited by the government) will be tested for COVID-19 and housed at a quarantine zone while awaiting the results of their test.
Foreigners wishing to transit through Dubai will only be permitted to fly onwards to their home countries and must have a valid ticket to their final destination.
Huseinova stated that she currently has no information about the resumption of flights to other countries.
Tajikistan suspended regular flight connections on 20 March. In June the first charter flights began for Tajik citizens stranded abroad. In July the Tajik Civil Aviation Agency announced that Tajikistan and Russia plan to resume commercial flights between the two countries, but when this is to take place remains unknown.