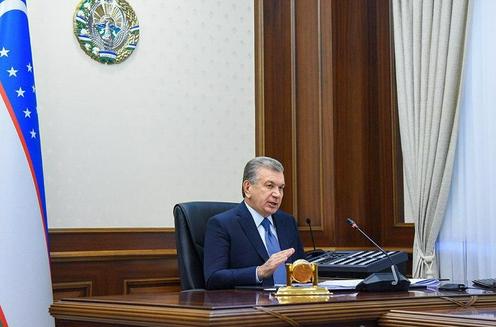 Shavkat Mirziyoyev during the government meeting. Photo by the Press Office of the President of Uzbekistan
From 15 August unrestricted road transport and domestic air and rail travel are to resume in Uzbekistan. Sanatoria, hotels, museums, children's camps, beauty salons, hairdressers and open air catering establishments will be allowed to reopen. People will be permitted to hold family gatherings of no more than 30 people in their homes. The changes were announced by President Shavkat Mirziyoyev today during the course of a government meeting devoted to regional industrial development, the head of state's press office reports (in Russian).
"We must gradually soften lockdown requirements in order to ensure robust activity in the economic and social spheres and ease the conditions of life of the population, without relaxing the fight for the health and lives of our citizens. The public themselves are calling for this," Mirziyoyev stated.
Public transport (excluding the metro) will begin operating again from 17 August, along with all forms of passenger travel between the country's regions, including long-distance buses. From 20 August non-food markets and construction materials markets will reopen, as will large stores, sports centres, fitness clubs and swimming pools.
The president also ordered quarantine regulations to be simplified for people arriving from countries with a stable epidemiological situation and rehabilitation centres to be set up for patients who have been treated for pneumonia.
Uzbekistan's second strict nationwide lockdown was introduced at the start of July after the country started to experience a significant rise in infections. It was originally planned to last until 1 August, but was later extended until 15 August. Mirziyoyev justified the decision with the need to slow the spread of infection and reduce the number of fatalities.
As of 12 August, Uzbekistan has recorded more than 32,400 cases of COVID-19. 25,100 people have recovered and 208 people are registered as having died.