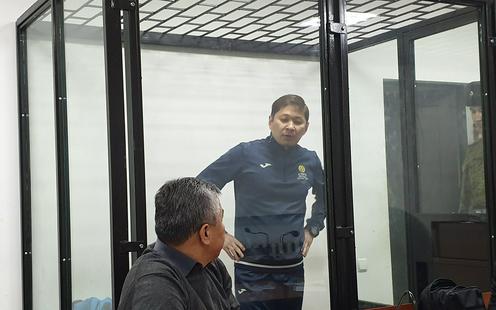 Sapar Isakov in the courtroom . Photo from 24.kg
Former prime minister of Kyrgyzstan Sapar Isakov has filed a complaint to the Constitutional Bench of the Supreme Court over the continuous extension of his pre-trial detention, reports news website 24.kg (in Russian).
The ex-PM's lawyer Zamir Jooshev stated that the holding of his client in pre-trial detention for more than one year represents a violation of the principle of the presumption of innocence. He said that the Constitutional Court has a duty to conduct a review based on the relevant sections of the Criminal Procedure Code, during which time Isakov's trial should be paused.
Isakov has meanwhile refused to participate in court sessions. He declared that he has no confidence in the courts and considers their rulings to be politically motivated. The same line of defence has already been used by former president Almazbek Atambayev (whose defence team also includes Jooshev). He flatly refused to leave his cell to attend court in the autumn of 2019 when the first case against him began. A number of attempts were made to get the trial underway, but Atambayev's behaviour brought each session to an early close. Eventually, the decision was taken on 16 January to try the case in absentia.
Isakov, who was known as Atambayev's right-hand man, was arrested in the summer of 2018. At that time relations had begun to sour between the former president and his successor Sooronbay Jeenbekov, and Isakov's prosecution was thus seen as politically motivated. Atambayev was himself arrested following a two-day-long siege of his residential compound in August 2019. A number of charges were brought against him, all separate from those involving Isakov.
At the start of December, Isakov was sentenced to 15 years in jail after being found guilty of corruption in connection with the modernisation of Bishkek thermal power station. The ruling is currently in the process of being appealed. Besides this, Isakov has been charged with corruption over the renovation of the National History Museum in Bishkek and the construction of the hippodrome in Cholpon-Ata.