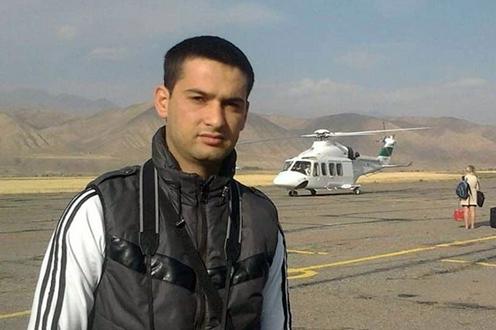 Daler Sharifov. Photo from his personal archive on website Sputnik
Representatives of the journalistic community in Tajikistan, together with a number of human rights organisations in the country, have called for the release of journalist Daler Sharifov, accused of inciting discord in the country and spreading propaganda for the Muslim Brotherhood (banned in the Russian Federation and Tajikistan). An announcement to this effect was published on the website of the National Association of Independent Mass-Media in Tajikistan (NANSMIT).
Journalist and rights activist Daler Sharifov was arrested on 28 January after being called in for questioning by security services in Dushanbe. The same day, law enforcement officers searched Sharifov's home and confiscated the journalist's books and computer. Criminal charges were filed against him under article 189 of the Tajik criminal code – "Inciting national, racial, regional or religious discord". The prosecutor-general alleged that in June 2019, Sharifov had used an underground printing press to illegally publish 100 copies of an undisclosed text.
"According to expert analysis, the text was written in line with the ideas of the Muslim Brotherhood movement, which has been designated a terrorist organisation in many countries around the world, and it aimed to win young people over to the ideology of jihad and called on them to carry out terrorist and extremist acts," Asia-Plus cites the Tajik prosecutor-general's press office as saying. According to unconfirmed reports on social media, Sharifov had cited Muslim Brotherhood ideologists in an as-yet unpublished work entitled "The Prophet Muhammad and Terrorism".
It was also charged that between 2013 and 2019, Sharifov "published more than 200 articles and posts on social media with extremist content, aimed at inciting religious intolerance and promoting the superiority of one part of the population over others" in terms of religious confession. No details were given of exactly which of the journalist's articles and posts were intended.
The authors of the NANSMIT announcement reminded the Tajik authorities that article 30 of the country's constitution guarantees freedom of speech and the press and forbids censorship and the harassment of government critics, and called for some form of non-custodial restraint for Sharifov while a thorough investigation of the case is carried out that respects all guarantees of freedom of expression in line with international standards. The statement was signed by 29 journalists and 8 of the country's civil society organisations. Previously, Tajik journalists had organised a flashmob in support of their colleague on social media, with the hashtag #FreeDaler.