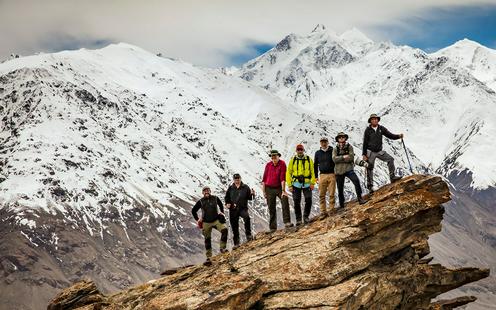 Tourists in the mountains in Tajikistan. Photo from akdn.org
Tajik president Emomali Rahmon has signed a decree increasing the length of tourist visas for foreign citizens from 45 to 60 days. The announcement was made at a press conference by the country's internal affairs minister Sirojiddin Muhriddin, Sputnik writes (in Russian). Visas are to be issued for a period of 90 days, during which foreign citizens are permitted to spend a maximum of 60 days inside the country. Single-entry visas for foreign tourists are to cost $30, and multiple-entry ones $50.
According to Muhriddin, the authorities are looking into the possibility of issuing three-year multiple-entry visas for individuals who are citizens of other countries but were born in Tajikistan, and five-year visas for investors and businessmen.
President Rahmon charged the government with extending the validity of visas for foreigners in a speech to parliament at the end of December 2019. At the time, he declared that multiple-entry five-year visas would be issued to foreigners who invest $1 million or more in projects in Tajikistan.
Previously, in June last year, the government approved a three-year plan to implement the country's Strategy for the Development of Tourism, which proposes simplifying the application process for tourist visas.
At present, citizens of 112 countries are able to obtain a Tajik visa without visiting a consular establishment. The website of the Main Consular Department of the Ministry of Foreign Affairs of Tajikistan offers an electronic visa service, following which passports are simply required to be stamped upon crossing the border.