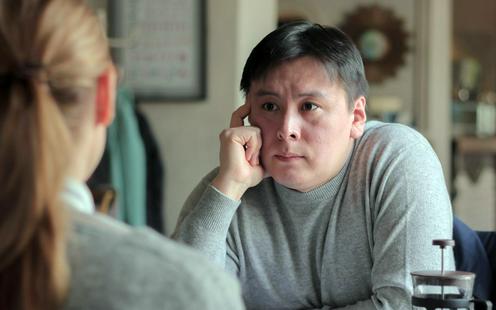 Zhanbolat Mamai . Photo from vlast.kz
The leaders of the Democratic Party of Kazakhstan have decided to cancel the party's founding congress, scheduled for 22 February, and to instead hold a demonstration in protest at the arrest of the organisation's supporters and associates, KazTAG reports (in Russian).
At a press conference on 19 February, the Democratic Party's leading figure, journalist Zhanbolat Mamai, declared that unprecedented pressure is currently being brought to bear on the movement's activists. According to him, 30 people travelling to the party's congress from the Mangystau region were detained en route by police. Five of them have been arrested for a period of five days, others are awaiting charges. In Kostanay and Semey, criminal charges have been brought against the party's supporters. One activist in the Atyrau region is awaiting charges.
Mamai said that the arrests represent an attempt to disrupt the congress and placed responsibility for them on the chairman of the Security Council of Kazakhstan, former president Nursultan Nazarbayev, and the country's current president, Kassym-Jomart Tokayev. "We are certain that, without their instructions, tens of thousands of police officers and akimats (local administrations – Fergana) are hardly likely to have mobilised to exert such pressure on our associates," the movement's leader said, adding that he was prepared for the possibility that he would be arrested at the demonstration.
"The decision to cancel the congress and to hold a demonstration is our way of showing solidarity with those who have been arrested, and to show that we can stand up for ourselves. It is fully possible that this demonstration will be followed by other acts of civil disobedience," said Tulegen Zhukeev, another Democratic Party founding member.
The demonstration by members of the Democratic Party has been scheduled for 11 a.m. on 22 February at Almaty's Astana Square.
The formation of the Democratic Party of Kazakhstan was announced by journalist Zhanbolat Mamai on 16 October last year. Besides him and Zhukeev, the group of founding members of the party includes the journalist Asel Zhanabaeva and journalist and rights advocate Sergei Duvanov. Mamai has recently publicly called on the minister of internal affairs of Kazakhstan, Yerzhan Turgumbaev to end the provocations directed against the organising committee behind the formation of the party. He complained of repeated attempts by unknown people to disrupt the meetings of Democratic Party supporters.