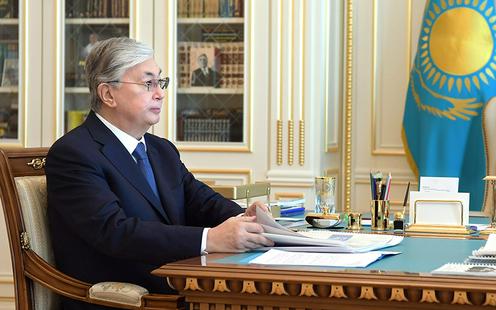 Kassym-Jomart Tokayev. Photo from the Press Office of the Akorda
Instead of a true decriminalisation, the new draft law to remove defamation from the Kazakh criminal code opens for even stricter measures against freedom of speech, the International Foundation for Protection of Free Speech Adil Soz argues (in Russian).
The organisation addressed an open letter to Kazakh president Kassym-Jomart Tokayev calling for the withdrawal of the new draft law, devised by the Office of the Prosecutor-General, and for a new version to be penned by the country's Supreme Court.
On 2 March, a set of proposed legal amendments was published, which envisage the replacement of prison sentences for defamation with fines ranging between $1,100 and $4,200 or detention for a period of up to 30 days. The current criminal code of Kazakhstan stipulates punishments for defamation in the form of a fine of up to $20,000 or imprisonment or restricted freedom for a period of up to three years.
Adil Soz criticised the amendment for categorising defamation as a semi-public offence, for introducing administrative penalties for it and for entrusting the handling of such cases to the police. It will thus be possible to resort to the coercive means at the disposal of the state, such as arrest or forcible transfer to police offices or the courts etc., in cases of disputes between private individuals. In addition, the draft law proposes very significant fines but makes no mention of compensation for moral damages to the victim.
Adil Soz's representatives argue that private disputes over the defence of honour and dignity should not be dealt with in the framework of the administrative offences code and with the use of the means of state coercion. "We request that the drafting of a new law on the decriminalisation of defamation be entrusted to the Supreme Court, in order to transfer this type of offence to the Civil Code," the letter concludes.
International organisations such as Reporters Without Borders have previously made repeated calls to the Kazakh authorities to abolish criminal charges for defamation. In December 2019, President Tokayev announced that defamation was to be decriminalised and transferred to the country's administrative offences code.