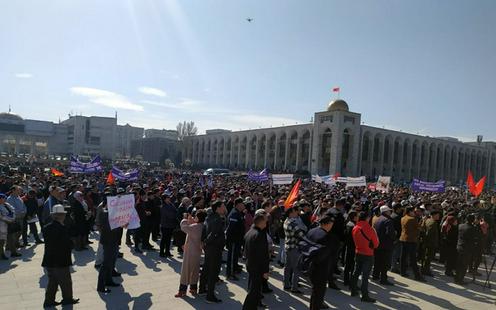 The demonstration in Bishkek on 2 March 2020. Photo from Kaktus.media
The Kyrgyz State Committee for National Security (SCNS) has charged the organisers of Monday's demonstration in Bishkek with attempting a coup d'état, 24.kg reports (in Russian).
Lawyer Baktybek Jumashev wrote on his Facebook page that the doors to the office of jailed ex-deputy Sadyr Japarov's support team were smashed in on the morning of 3 March. "A search has been conducted. This means that pre-trial proceedings have begun and someone will shortly be charged with a crime," the lawyer wrote.
The SCNS confirmed to journalists that a search had been carried out and stated that the actions of those under investigation are being treated as an attempted coup d'état. One of the demonstration's organisers, former deputy Kanybek Osmonaliyev, is already being held in detention. In total, 166 people were arrested following the demonstration, but 162 of them were released after ID checks. The Ministry of Internal Affairs stated that during the dispersal of the demonstration, 24 police officers received injuries. The Ministry of Health announced that 22 people – three members of the public and 19 law enforcement officers – had received medical assistance.
Sadyr Japarov was sentenced to 10 years in jail for taking a government official hostage at a demonstration in 2013. Initially, the 2 March demonstration was planned to be held in his support. Through his lawyers, Japarov himself told people that he feared provocations and asked his supporters not to attend the event. Despite this, a large number of people still gathered on Bishkek's central Ala-Too Square.
Over the course of the demonstration, protestors directed a number of other demands to the authorities. Besides Japarov's release, they made demands related to the prevention of the spread of the COVID-19 coronavirus in Kyrgyzstan, the settlement of external debts to China, the resolution of border disputes with Tajikistan and many other issues, all entered on a list which was then handed over to a representative of President Sooronbay Jeenbekov. The protestors were told that their demands would be receive an answer within three days and were asked to disperse.
Protestors refused to leave Ala-Too, however, before Japarov was released. At around 7 p.m., some of the demonstrators moved to outside the nearby White House (the country's presidential building). After this, the police began to forcibly disperse the gathered crowds. People were quickly forced from the square. Brief disturbances took place on adjacent streets, with demonstrators hurling stones at the police. Within an hour the situation was brought under control. Police in the capital were placed on high alert. The next morning, it was announced that the night had passed without incident. Bishkek mayor's office announced its intention to seek an injunction from the courts to temporarily ban the holding of demonstrations in the capital.