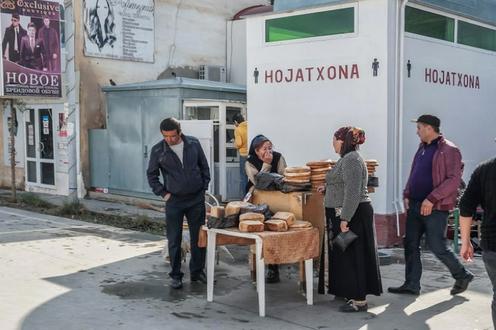 Photo by Andrei Kudryashov, Fergana
From the autumn of 2020, Uzbekistan will begin the gradual abolition of state procurement for cotton and grain production. Two presidential decrees on the matter, signed by Uzbek president Shavkat Mirziyoyev, were published on 9 March by government news agency UzA (in Russian).
Beginning with the 2020 harvest, grain bought by the government for the purpose of stabilising bread prices on the domestic market will be allowed to be stored in the grain stores of any companies, regardless of ownership form, which meet the demands for grain storage on a contractual basis, the first document states.
According to the decree, starting from the 2021 harvest, the setting of government prices for grain and the practice of state procurement will be entirely abolished. Grain produced by farmers and other businesses will be sold to all consumers either through grain exchanges or by direct agreements (futures, forwards etc.) at market prices.
The Ministry of Finance's Fund for State Support to Agriculture will buy grain at market prices in order to safeguard the stability of grain and bread prices. The system of certified seed deliveries to guarantee quality for farmers will be maintained, but over the course of 2021-23, deliveries will be gradually taken over by seed-production clusters and high-quality seed producers under the Centre for the Development of Seed Production at the Ministry of Agriculture.
Seed companies currently grouped under Uzdonmahsulot will be gradually sold to private businesses over the course of 2020-2021.
UzA also published the full text of the president's "cotton" decree, whose imminence was already known to the media. It sets out the abolition of state procurement for raw cotton and the abolition of price-setting for cotton, starting from the 2020 harvest.
As with grain, the system of certified seed deliveries will be retained, but will be gradually transferred to seed-production clusters under the Centre for the Development of Seed Production and cotton-textile clusters.
The same decree abolishes the 10% discount on cotton fibre produced inside the country, currently applied to cotton exchange starting prices.
The country's Strategy for the development of key sectors of the economy over the next ten years, presented by the Ministry of Agriculture in September 2019, envisaged the gradual abolition of direct government participation in the production and sale of cotton, wheat and other crops, as well as the abolition of state regulation of prices for agricultural products, the privatisation of non-strategic state enterprises, the defence of farmers' rights to land and the formation of rental and sub-rental markets for agricultural land. The Strategy was ratified by Mirziyoyev in October.