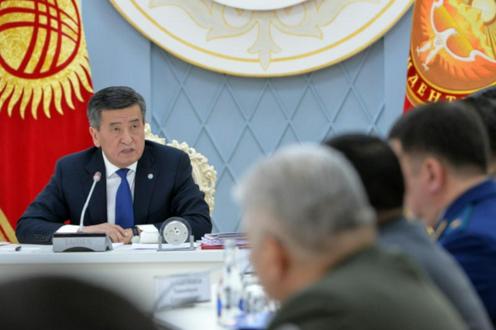 The Security Council session. Photo from the website of the Kyrgyz president
All schools and universities in Kyrgyzstan are to be closed for three weeks, the press office of the country's president Sooronbay Jeenbekov has announced (in Russian). The decision was taken at a session of the Kyrgyz Security Council dedicated to the fight against the spread of the COVID-19 coronavirus.
The quarantine will begin on 16 March. No decision on the closure of nurseries and kindergartens has yet been taken, AKIpress reports, citing information from the education ministry.
Speaking at the Security Council session, the President referred to the economic cost of prophylactic measures taken by various countries in relation to the virus. He spoke of the consequent need to "cut back state expenditures".
He also spoke of the need to keep the public informed of the situation. "There is a lot of speculation and rumour going around. There are some who doubt that there are no cases of coronavirus in the country. After the confirmation of cases in our closest neighbour, Kazakhstan, concern will also grow here. This is only natural. We must step up our work and quickly, openly provide the public with information," Jeenbekov said.
As of 14 March, no official cases of the coronavirus have yet been recorded in Kyrgyzstan. On 13 March, Kazakhstan became the first country in Central Asia to officially report cases of the virus. There have, however, long been reports of cases in Turkmenistan, which shares an extensive border with heavily-affected Iran.