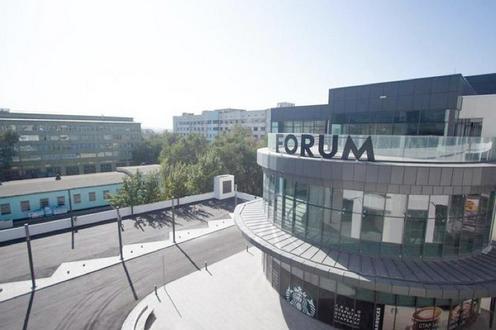 A shopping centre in Almaty . Image from Almaty.gov.kz
After an increase in the number of cases of the COVID-19 coronavirus in Almaty, the municipal authorities have ordered the immediate closure of all non-food stores and kiosks and all service sector establishments. The new measure was announced on the website (in Russian) of the Almaty akimat (local administration).
The announcement says that all non-food shopping centres (smaller than 2000 m3) and non-food stores outside of shopping centres, as well as car dealerships, car parts stores and flower kiosks have been closed.
In addition, all service sector establishments have been closed, apart from medical establishments: this includes dry-cleaners, laundries, photo shops and studios, opticians, pawnshops, estate agents, car washes, technical support stores and all kinds of entertainment establishments, including internet cafés, karaoke bars, children's play centres, pool halls, aquariums, gyms, swimming pools, solariums, sports clubs etc.
Stores and kiosks selling food and medical products are to remain open. The new measures do not affect online stores, which will continue goods deliveries. Petrol stations will also remain open. In addition, restaurants, cafés and other catering establishments are permitted to continue their work, but by delivery only, and no later than 10 pm. Public transport is also to be restricted to between 6 am and 7 pm. Previously, public transport had functioned as normal but with an extra 20% interval.
Announcing the changes, Deputy Akim (Mayor) Saparbek Tuyakbayev explained: "The goal is to reduce contact between people to an absolute minimum. We urge all Almaty residents to work from home."
Soon afterward, Mayor Bakytzhan Sagintayev took to Twitter to justify the new measures with reference to Almaty residents' "careless" attitude to existing anti-virus regulations.
"The situation with respect to the spread of the coronavirus is much more serious than many imagine. To underestimate the danger is irresponsible and criminal. Unfortunately, despite the quarantine, not everyone is observing the restrictive measures and are thereby placing other citizens at risk. There have been cases of sports centres and restaurants continuing to operate and of the violation of sanitary regulations in food stores. Ordinary citizens are also exhibiting a careless attitude, walking in the streets as if everything was fine and not listening to the recommendations of specialists. Strong measures are being taken against those caught breaking the rules," Sagintayev said.
As of late evening local time on 26 March, Kazakhstan has reported 109 infections, an increase of 28 since yesterday. 61 of the cases are in Nur-Sultan, 40 in Almaty, two each in Karaganda and Shymkent, and one each in the wider Almaty region, Aktobe region, Jambyl region and North Kazakhstan region. Two patients are said to have recovered from the virus.