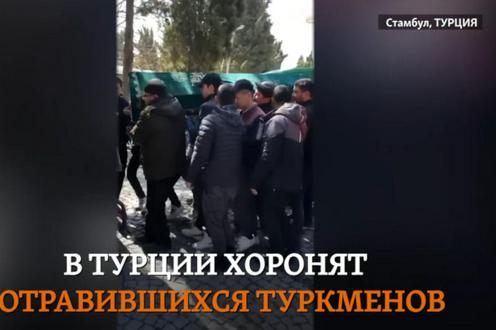 The funeral of one of the deceased in Istanbul. Still image from Azatlyk
The number of Turkmen nationals who have died after drinking bootleg alcohol in Istanbul has risen to 53, RFE/RL's Turkmen service Azatlyk's sources in Turkey have reported (in Russian). 15 people are apparently still in hospital.
The deceased were buried in a local cemetery in Istanbul. Relatives were unable to attend the ceremony due to travel restrictions currently in place in connection with the coronavirus. By varying reports, the Turkmen authorities either declined or simply failed to repatriate the bodies. Memorial services for the deceased in Turkmenistan were held in the presence of members of the security services, with attendees told not to linger.
It has also been reported that relatives who appealed to the local authorities were told that the migrants had died from the coronavirus and that their remains had been cremated. Some relatives who requested help in repatriating the bodies were allegedly even threatened and accused of seeking to bring the virus to Turkmenistan.
11 people have been arrested in connection with the incident in Turkey, with investigators recovering large amounts of bootleg alcohol as well as unregistered firearms. Most of the arrested are said to be Turkmen nationals, plus a few Turkish citizens.
The counterfeit alcohol was distributed with fake labels of the Turkmen "Balykchy" brand and made with the dangerous but cheaper methyl alcohol as a replacement for the usual ethyl alcohol. According to the police, the Turkmen migrants drank the alcohol after hearing rumours that it would protect them from the coronavirus.
Legal alcohol prices in Turkey have risen dramatically in recent years as a result of a systematic campaign to increase taxes on alcoholic drinks. Since the start of the millennium, the price of beer in Turkey has increased by more than six times, and local spirit raki by more than seven times. This has caused some parts of the population to turn to cheaper counterfeit versions. Despite repeated incidents of lethal mass alcohol poisonings in the country, demand for counterfeit alcohol has shown no decline.