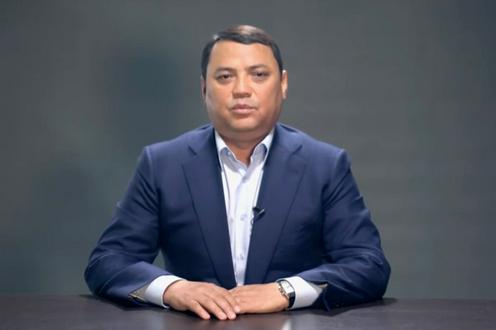 Former deputy head of the Kyrgyz customs service Rayimbek Matraimov. Still image from his recorded message to ex-president Almazbek Atambayev
RFE/RL's Kyrgyz service Azattyk, the Organized Crime and Corruption Reporting Project (OCCRP) and the Kyrgyz news outlet Kloop have won the 2019 Tom Renner Award for covering organised crime or other criminal acts, awarded by the organisation Investigative Reporters and Editors (IRE). The result was announced on the IRE's Twitter account.
The prize was bestowed "for exposing crimes in places where the world usually pays little attention", the announcement said.
The winning investigation, entitled "Plunder and Patronage in the Heart of Central Asia", reported on money laundering schemes involving hundreds of millions of dollars in Kyrgyzstan and corruption at the top of the national customs service. It was published in three parts.
In the spring of 2019, the first part of the investigation reported that between 2011 and 2017 the family of the former deputy head of the Kyrgyz State Customs Service, Rayimek Matraimov, channelled $700 million out of the country with the help of a Chinese citizen of Uyghur origin, Aierken Saimaiti.
Part two of the investigation alleged that the Matraimovs were protecting millionaire Khabibula Abdukadyr's powerful Uyghur clan, which was engaged in large-scale smuggling. Saimaiti claimed to have worked for the clan up to 2017, after which he fell out with them and was forced to flee Kyrgyzstan.
At the start of December 2019, the third part of the investigation set out the details of the previously-reported illegal international money transfers. The journalists' informant Saimaiti was found murdered in Istanbul shortly before the material was published.
"Due to multiple threats received by reporters and editors, the names of individual contributors are not disclosed," the IRE said in presenting the award.