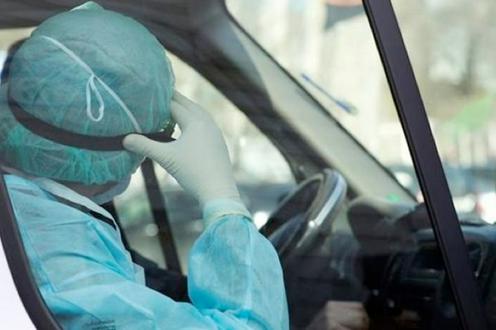 Photo from Lethbridgenewsnow.com
The body of Jaloliddin Pirov, an employee of the state prosecution service in Dushanbe who died of pneumonia on 19 April, has been buried in a closed coffin, RFE/RL's Tajik service Ozodi reports (in Russian), citing information from the deceased man's relatives.
According to relatives, medical workers in protective clothing brought Pirov's coffin to the courtyard of his home so that family members could say their farewells, but then immediately took it away for burial without allowing his relatives to open the lid.
Pirov was hospitalised at the infectious diseases hospital in Dushanbe on 13 April and diagnosed with pneumonia. On 16 April his condition suddenly deteriorated and he was transferred to another hospital in the capital, where he died three days later.
One of the man's colleagues stated that he had been advised to go into quarantine but that no mention of COVID-19 had been made. All of Pirov's family members have been placed under home quarantine and told to restrict the wake service to a small circle of people. The deceased man's father, Saidislom Pirov, who also works in the prosecution service, was taken ill after his son's death and hospitalised on the day of the burial.
The wife of a patient who was in the same ward as Pirov said that her husband had been taken to hospital with breathing difficulties and a heavy cough. A doctor at Istiqlol Hospital, to which Pirov was transferred, explained that all those who had been in Pirov's ward had now been placed in quarantine.
This is not the first case to raise eyebrows in recent weeks in one of the few countries in the world still yet to report a case of COVID-19. Following the death of Jabbor Rasulov district resident Habibullo Shodiev from pneumonia on 1 April, all of his relatives were quarantined and eight members of one family in the same village were later hospitalised with high temperatures.
"First, family head Abdukhalil Juraboev, born 1964, took his grandson to the hospital – the boy had a high temperature. Then Abdukhalil's own temperature was taken and it too turned out to be high. Now Abdukhalil, his wife, two daughters-in-law and three grandchildren are all in hospital under observation. Their condition is satisfactory," Ozodi's source in the district hukumat (administration) explained.
Another Jabbor Rasulov district resident, Muminjon Mirbarotov, died on 17 April. With a heavy cough and high temperature, he had been taken first to a private clinic, where he was refused treatment, and then to the district's central hospital, where he passed away while being examined.
Questions have also been raised about several other deaths not officially attributed to pneumonia. The Tajik health ministry has so far not linked any of these deaths – variously attributed to pneumonia, tuberculosis and heart failure – to the global COVID-19 pandemic.
The head of the WHO's office in Tajikistan, Galina Perfilieva, stated that tests have not confirmed the presence of the coronavirus in the country, despite the fact that "the level of qualification of specialists and the quality of diagnosis correspond to international standards". Deputy health minister Shodikhon Jamshed explained the increased number of respiratory illnesses with reference to "unfavourable weather conditions". "Pneumonia is a normal seasonal illness. So there is no need to create a sensation out of the sharp rise in pneumonia cases," he said.
Turkmenistan and Tajikistan remain one of a handful of countries around the world (mostly small Pacific Ocean island states) yet to report cases of coronavirus. Five weeks after the first official cases of COVID-19 were reported in Central Asia, in total nearly 4,000 confirmed infections have been recorded to date in Kazakhstan, Uzbekistan and Kyrgyzstan. Testing per capita in these countries remains a little below that of the lowest-testing countries in Europe.