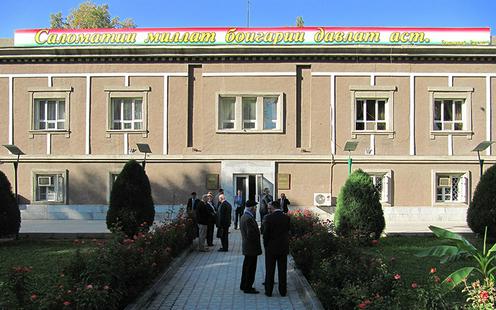 Headquarters of the Health Ministry of Tajikistan . Photo from Asiaplustj.info
The Ministry of Education and Science of Tajikistan has denied reports that pupils at Dushanbe's College No.1 have been sent home for quarantine following the death of sports teacher Khurshed Karimov, Asia-Plus writes (in Russian).
Earlier, pupils and fellow teachers at the college told journalists that Karimov had died of a lung illness and that the school had been temporarily closed. The Tajik education ministry has now stated that the college is open as normal. The health ministry also announced that the cause of Karimov's death is still unclear since post mortem results have not yet been received.
Previously, the head of Dushanbe's education department had said that the school had been closed for routine disinfection.
The health ministry spokeswoman also denied reports that three more people had died of pneumonia today at Dushanbe City Hospital No.1. Yesterday, the deaths of four people from pneumonia were reported at the same hospital. According to the hospital manager, coronavirus tests on all four individuals had come back negative.

Earlier today, it emerged that famous Tajik writer Muhiddin Khojazoda (Khojaev) has been admitted to hospital with pneumonia and connected to a ventilator. Ozodi reports that the Khojazoda's son has also been admitted to hospital with a high temperature. Both have undergone coronavirus tests which have been sent to Dushanbe for analysis. Last week, poet and magazine editor Tolib Karimov and his wife were also taken in to hospital, diagnosed with pneumonia and a cold respectively.