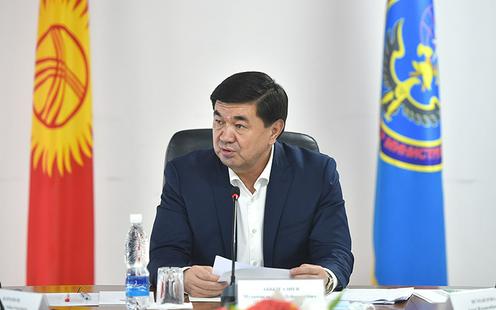 Mukhammedkaliy Abylgaziyev . Photo from Gov.kg
The Kyrgyz government has drawn up a plan for a gradual exit from the current lockdown, KaktusMedia reports Prime Minister Mukhammedkaliy Abylgaziyev as announcing at a session of the government committee for the fight against COVID-19 on 28 April.
At present, in areas of the country where a state of emergency has been declared, the only economic activity that is permitted is the production, sale and transportation of foodstuffs, medication and fuels and lubricants and the provision of banking and housing and utilities services. Abylgaziyev announced that, as early as the 1 May, the list of permitted forms of economic activity will be significantly extended. All industrial production enterprises will allowed to operate, construction work will be permitted, and carwashes and vehicle repair workshops will reopen. Hairdressers too will be allowed to reopen, though only for work by appointment.
Online stores will be permitted to operate, including for deliveries. Wholesale services will resume for construction materials and textiles. Car and bicycle parts stores will reopen, as will cattle markets in remote areas. Finally, taxi drivers will be allowed to work – on the condition that they do not carry more than two passengers. It was earlier reported that many impoverished cab drivers in Bishkek have been forced to resume their work illegally.
From 11 May, microfinance organisations, insurance and tourism agencies and real estate agents will be allowed to operate, along with dry cleaners and appliance repair stores. Even more significantly, public transport will be resumed. "The resumption of public transport is a risk, but if the level of infection falls then buses and trolleybuses will be allowed to run. Minibuses are obviously still not safe," Abylgaziyev explained.
From 21 May, shops, markets, shopping centres, saunas and spas, Citizens' Service Centres and many other service sector branches will reopen.
Yesterday it was announced that the state of emergency in Bishkek, Osh, Jalal-Abad and the At-Bashin district in the Naryn region is to continue until at least 10 May. The state of emergency in the town of Naryn itself and the other southern districts currently subject to it will come to an end on 30 April. As Kyrgyzstan's deputy prime minister has pointed out, this means that the Bishkek authorities will need to provide 20,000 people with permission slips to travel to and from work from 1 May.
The announcement of the Kyrgyz authorities' lockdown exit plan follows the announcement of similar but more restricted steps in Kazakhstan and Uzbekistan.
Kyrgyzstan has currently reported 729 cases of COVID-19 and 8 deaths.