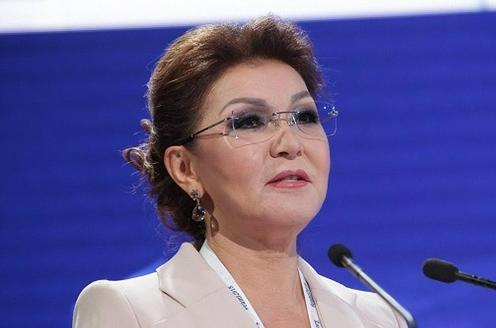 Dariga Nazarbaeva. Photo from Kursiv.kz
Kazakh president Qasym-Zhomart Toqaev has signed a decree bringing Dariga Nazarbaeva's senate term to an end, it has been announced on the presidential website. The daughter of Kazakhstan's former president and "Leader of the Nation" Nursultan Nazarbaev was elected speaker of the upper chamber of parliament in March 2019 and has been a powerful figure in Kazakh politics for years.
The presidential decree does not provide any grounds for the decision. Earlier today, Toqaev thanked Nazarbaeva for her work as senate speaker via Twitter.
Born in 1963, Dariga Nursultanovna Nazarbaeva was able to use her position as daughter of independent Kazakhstan's first president in the 1990s to build up an extensive media empire. Her direct entry into politics came in the early 2000s. In 2004 she was elected to the lower chamber of parliament, and between 2015 and 2016 she occupied the post of deputy prime minister of Kazakhstan. Since 2016, she has been a member of the senate, chairing committees on international affairs, defence and security. Her rise fuelled persistent rumours that Dariga Nazarbaeva was being groomed to take over from her father.
According to political scientist and Central Asia expert Arkady Dubnov, Dariga Nazarbaeva's removal from the senate appears to be "a top-priority political move by President Toqaev". Commenting on the incident to Fergana, Dubnov stressed among other things that such a step by the president is "entirely legitimate, since Dariga Nursultanovna was appointed through a presidential appointments quota by her father, Nursultan Nazarbaev, back when he was head of state".
"Dariga's term in the senate was due to expire in September this year," the expert pointed out. "Given the current state of affairs, this term was never going to be extended in any case, and Toqaev has used his presidential prerogative in order to remove the possibility of a dual power structure in the domestic politics of Kazakhstan, which would be highly destructive during the state of emergency introduced in the country to fight the pandemic. After all, Dariga has been aggressively demonstrating her ambitions for power in recent months."
Dubnov argues that "recent scandals linked to her name following the erratic behaviour of her son living in London (Nazarbaeva's 29-year-old son, Aisultan Nazarbaev, recently received a suspended sentence and was sentenced to community service and a large fine in the UK for breaking into an apartment in London under the influence of drugs; this was not the first such incident blamed upon Aisultan's drug addiction – ed.) and the high-profile court cases surrounding properties in London, have seriously undermined the image not just of Dariga herself as the third figure in the state hierarchy in Kazakhstan, and not just of the ruling Nazarbaev family, but the image of the Republic of Kazakhstan itself".

"There is no doubt that the decision to remove Dariga Nazarbaeva as senator was agreed with her father," Dubnov adds, "because this is one of a number of areas in which Toqaev committed himself to reach agreement with Nazarbaev when he took up the position of Nazarbaev's successor last year. We can also be sure that the Elbasy will be allowed to celebrate his 80th birthday with every conceivable mark of honour on 6 July this year, while retaining all of his privileges as national leader. But after Dariga's exit and the birthday celebrations, it is likely that his influence on politics will steadily decline to a minimum". "While remaining as national leader, he (Nazarbaev – ed.) will be exactly like a monarch who reigns but is deprived of almost all real possibility to rule," the expert concludes.
Earlier this week, the lower chamber of the Kazakh parliament ratified a legal amendment granting important new emergency powers to President Toqaev in the economic sphere. Experts suggested that this was both an understandable step to streamline measures during the fight against COVID-19 and "a convenient tool to use to determine which [oligarchs] to support and which to push aside".