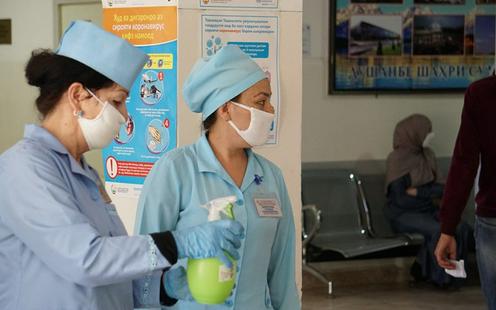 At a hospital in Dushanbe . Photo from Asiaplutj.info
The number of coronavirus cases in Tajikistan has almost quadrupled in two days to rise to 230, the state news agency Khovar reports (in Tajik).
According to the latest information, three people have now died from the virus. 3,208 people are currently under medical observation.
The highest number of cases is in Dushanbe (110). There are also 70 cases in the Sughd region, 22 in centrally administered districts, 21 in the Khatlon region, and 7 in the Gorno-Badakhshan region. This means that the virus is now officially present in all of the country's regions.
This marks a rapid escalation since the first official cases of the virus were reported on 30 April.
As reported previously, doubts have long been raised about the official absence of COVID-19 in Tajikistan. Civil society groups and others have claimed that the authorities have only felt pressured into acknowledging the presence of the virus in the country due to the recent arrival of a WHO mission to the country. The first cases were announced the day before the delegation arrived.
At the end of March, large-scale Nowruz celebrations were held in the northern city of Khujand, with more than ten thousand people attending a concert at the municipal stadium. By this stage, coronavirus cases had already been confirmed in the neighbouring countries of both Uzbekistan and Kyrgyzstan. From the start of April, there were reports of increasing numbers of pneumonia patients. However, the authorities, denied that this was down to the coronavirus and explained the rise in cases as the result of "unfavourable weather conditions".
Meanwhile, healthcare workers across Tajikistan have been complaining of a lack of protective equipment and ventilators. Despite the authorities' assurances that they have been preparing for the epidemic for three months, the district hospital in Muminabad district in Khatlon, for example, has only one functioning ventilator. The health ministry has previously stated that Tajikistan is "in a more favourable situation" since the country can draw on the experiences of countries such as Russia, China, Uzbekistan and Belorussia that have drawn up strategies and algorithms for how to deal with the epidemic.