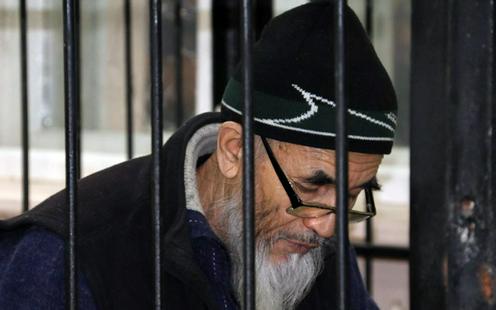 Azimjan Askarov. Archive photo from Azattyk.org
The UN's Special Rapporteur on the situation of human rights defenders, Mary Lawlor, has called on the Kyrgyz government to immediately release Azimjan Askarov from prison. A summary of the UN's latest appeal is available on the website of the OHCHR.
Lawlor notes that the Kyrgyz authorities have already ignored more than one communiqué from the UN demanding Askarov's release. She warns that, if the current appeal goes unheeded, the world will see that Kyrgyzstan is continuing to flout its obligations to guarantee the right to a fair trial. The special rapporteur also stresses that being kept in jail during the COVID-19 epidemic is particularly dangerous for the 69-year-old Askarov.
Lawlor's appeal was supported by the UN's special rapporteurs on the independence of judges and lawyers, on minority issues, and on torture.
The ethnic Uzbek Azimjan Askarov worked actively to highlight human rights abuses committed by Kyrgyz law enforcement agencies. After the interethnic strife in the south of Kyrgyzstan in 2010, he was accused of organising the disturbances, inciting interethnic discord, and participating in the murder of a police officer. According to other human rights defenders, law enforcement agencies fabricated the case against him as vengeance for his earlier activities. A Kyrgyz court sentenced Askarov to life in prison, a judgement that he is still trying to appeal. The latest Supreme Court session in his case was rescheduled on account of the COVID-19 epidemic for 13 May (the current state of emergency in Bishkek is due to be lifted on 11 May).