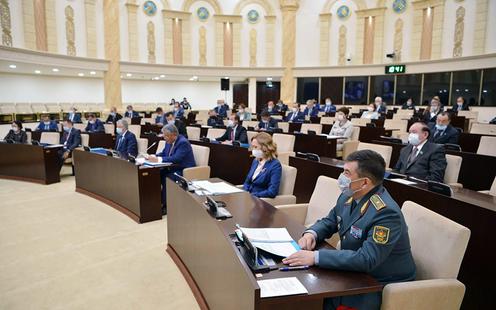 At the Kazakh senate session . Photo from Senat.parlam.kz
The Kazakh senate has approved amendments to the constitutional law "On elections" and the law "On political parties" stipulating obligatory quotas for women and young people in elections by party list, Forbes.kz reports (in Russian).
The amendments were drawn up on the initiative of the president. They introduce a quota for political parties' election lists of no less than 30% women and young people, as well as lowering the number of members a political party is required to have in order to register from the current 40,000 down to 20,000.
"On the whole, these legislative initiatives will have a positive effect on the participation of women and young people in the political life of society, and also on the further development of a multiparty system," acting justice minister Natalya Pan said at the senate session.
At present in Kazakhstan there are seven officially registered political parties: the ruling Nur Otan party, the Ak Zhol Democratic Party and the Communist People's Party, which both currently also have seats in parliament, and the Nationwide Social Democratic, Auyl, Birlik and Azat parties which do not. The latter has been inactive for several years and in practice ceased to exist.
In recent months, however, several political groups have declared their intention to form new parties. Besides the Democratic Party (whose members have suffered mass arrests in connection with more than one protest this year) these parties are XAK (Honest Service of the People) Respublika, and Mels Eleusizov's green party Tabigat (Nature). The party Nashe Pravo (Our Right) has also made attempts to hold a founding congress.
The last parliamentary elections in Kazakhstan took place in March 2016. The next scheduled elections are due to be held in March 2021, but most political analysts expect it, like all previous elections, to be called early.
Whether Kazakh women engaged in politics were positive towards being placed in the same quota category as "young people" was not reported. In 2017, though, news and analysis site Eurasia.Expert calculated that in terms of the number of women in politics, among EAEU nations Kazakhstan is second only to Belarus.