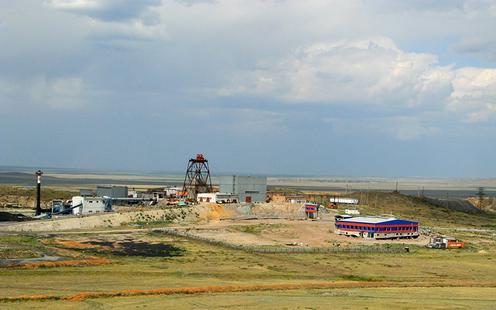 The Nurkazgan mine. Photo by Nikolay Olkhovy from Wikipedia.org
Following an outbreak of coronavirus infections, the Nurkazgan mine in Kazakhstan has been closed for quarantine until 1 June. The announcement was made by Karaganda region chief medical officer Kanat Askarov, Kursiv.kz reports (in Russian).
According to Askarov, as of 21 May, 133 mine employees have tested positive for the virus. Earlier, the press office of the company that owns the mine had stated that operations had been suspended due to the infection of 35 workers. The company then promised to test the entire workforce, leading to the discovery of an additional 98 cases to date. Over 1,100 people are said to work there.
The news from Nurkazgan echoes an ongoing saga at Kazakhstan's largest industrial site, the Tengiz oil field by the Caspian Sea, where nearly 1,000 workers have been infected (media reports have been stating 730 infections, though Kazakhstan's chief medical officer gave the figure of 935 at a recent press conference and a further 20 have been reported since). Around 30,000 people are said to work at the site. 20,000 non-essential workers are reported to have been moved out of the area, but the whole site may have to be closed if infection numbers continue to rise, the country's chief medical officer has said.
The first cases of COVID-19 were recorded at Tengiz at the start of April and, as at Nurkazgan, rising caseloads have led to more comprehensive testing and subsequently more infections being discovered. A worker at the Tengiz site told State TV news last night that most of those who had returned positive results had been without symptoms and had no idea they were infected.
In the absence of widespread randomised testing among the population, it is of course hard to know exactly what this means. Testing per million population in Kazakhstan has been more than twice that in other Central Asian nations and comparable with rates in Europe and the US, and the WHO's European regional director recently praised the country, among other things, for its "extensive testing". However, like elsewhere, Kazakhstan has focused testing efforts on confirmed cases' contacts, healthcare workers, and risk groups in hospitals. Increasing efforts have been made to test state employees and workers in key branches of the economy, including several thousand employees of a major supermarket chain. Deputy Health Minister Lyudmila Byurabekova announced earlier this week that designated clinics will soon begin selective testing of members of the public regardless of whether or not they have symptoms. "Then we will judge how widespread the virus is in the population," Byurabekova said.
To date, Kazakhstan has reported 7,597 cases of COVID-19 and 35 deaths. Like other Central Asian nations, the country has begun to reopen its economy recently following a drop in new cases and official assessments that the situation was developing satisfactorily. The last week, however, has seen a new surge in infection numbers, though, as in Kyrgyzstan, officials have attributed this to increased testing.