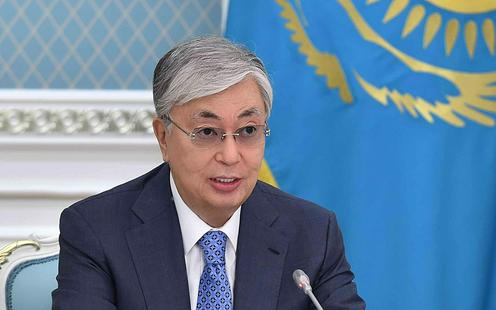 Qasym-Zhomart Toqaev . Photo by the press office of the Akorda
Kazakh president Qasym-Zhomart Toqaev does not consider Russians living in Kazakhstan to be a diaspora, he said in an interview published on 3 June in Komsomolskaya Pravda (in Russian).
"While going through some foreign analytical material recently, I came across the expression 'the Russian diaspora in Kazakhstan'. I have warned our ideologues and analysts that they should not under any circumstances employ such expressions, which fundamentally contradict the true state of affairs. Russians are a part of our people. Their contribution to the formation and development of Kazakhstan has been enormous and cannot be forgotten," the president said.
Many Russian names, Toqaev noted, "are inscribed with golden letters" in the history of Kazakhstan, while Gennady Golovkin, Aleksandr Vinokurov, Olga Rypakova and other famous sportsmen and women successfully uphold the republic's honour in the global sporting arena.
Toqaev added that, independently of their ethnic origins, Kazakhs see themselves as one united people and that there is no such concept as "national minority" in the country. "More than 3.5 million Russians live in Kazakhstan. As a proportion of the total population they represent 19%. Russians living in our country are an irreplaceable part of our people and enjoy full rights," he assured.
In answer to one of the outlet's questions, Toqaev noted that Russians have complained to him of "certain difficulties" in obtaining employment in state organs in Kazakhstan. "I cannot agree with claims about discrimination in relation to those wishing to enter government service," the head of state answered. "Members of Slavic and other ethnicities are currently represented in government agencies, in parliament and in maslikhats (local representative organs – ed.). Russians make a significant contribution to the development of small and medium-sized business, industry and agriculture. According to the constitution the Russian language is used officially in the organs of state."
In reply to journalists' remarks about a tendency to renounce the use of Russian place names, Toqaev stated that there is no wholesale renaming process going on and that towns and streets are simply returning to their original names. "Clumsy names and toponyms representing Soviet era realities and which are not popular among local residents, such as Tyeplovoznaya (Diesel Locomotive) and Prikanalnaya (By the Canal), are being consigned to the past. The true topographical names are returning," the president said.
According to data from the Kazakh Statistics Committee, as of 1 January 2020, 18.6 million people live in Kazakhstan. The largest part of the population – 12.7 million – is composed of ethnic Kazakhs. In second place numerically come Russians – 3.5 million, and then Uzbeks (605,000) and Ukrainians (264,000).
In the same interview, Toqaev also said that the government would not force the transition to using the Latin alphabet, saying that the transition would be carried out «without any artificial haste, taking into account the experience of (other) Centra Asian governments. Of course, it is not simply a matter of transposing from Cyrillic to Latin, but of a spelling reform of the Kazakh language."
He also stated that there were no plans for Kazakhstan to join the Union State of Russia and Belarus, that there had been no discussions about the establishment of a US military base in the country, and that he did not see China's growing presence in Central Asia as a threat. Talk of a Ukraine scenario playing out were the unfounded predictions of pseudo-experts and reports of tension and a «dual power» between him and former president Nazarbaev were baseless, he said.