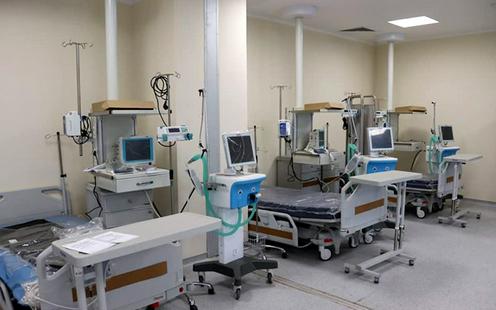 Coronavirus treatment equipment at a hospital in Bishkek . Photo from Azattyk.org
Patients with pneumonia symptoms in Kyrgyzstan will now be hospitalised without waiting for coronavirus test results, 24.kg reports (in Russian), citing Kyrgyz deputy health minister Nurbolot Usenbaev.
Usenbaev stated that guidelines for medical workers had been altered. PCR tests from those suspected of having the coronavirus will be taken after the individuals in question have already been hospitalised. Extra hospital beds have been put in place to allow this to happen.
The move comes as Kyrgyzstan is experiencing a surge not only in official coronavirus infections but also in pneumonia patients with negative COVID-19 test results. On Thursday, Kyrgyzstan was included along with Kazakhstan in a list of 11 countries in the Europe and Central Asia region considered by the WHO to be experiencing a "very significant resurgence" of COVID-19. On Saturday Kyrgyzstan set a new record (309) for daily new cases for the fourth day in a row. The precipitous rise in active cases of COVID-19 in the country over the last two weeks can be seen in the graph below.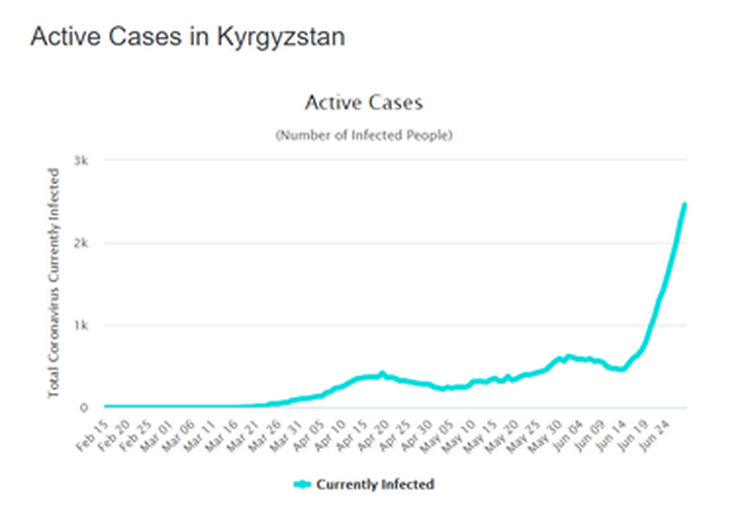 Graph showing active coronavirus cases in Kyrgyzstan . From worldometers.info/coronavirus
At the same time, there are concerns both that hospital resources are under severe pressure and that coronavirus test kits are returning a significant number of false negatives. A voice recording by Kyrgyz endocrinologist Roza Sultanalieva has been widely shared on social media, in which she states that Bishkek City Clinical Hospital No.1 is currently experiencing a "catastrophic situation – in one night they lost four patients, they just can't get them to intensive care fast enough, patients are turning blue and dying". Chief medical officer Jusup Boshkoev confirmed that the recording was made by Sultanalieva, but claimed that the endocrinologist merely wanted to scare relatives of hers who are not following lockdown regulations and did not count on the recording finding a wider audience.
Boshkoev did, however, admit that the hospital was under strain. "People are dying. There are no free hospital beds – they set up 80 beds for pneumonia patients but we have 100. There is nowhere to put new patients," he said.
The chief medical officer added that he believes that some negative COVID-19 test results are inaccurate. "Whole families are falling ill with pneumonia at the same time, these things just don't happen. This is COVID-19 with negative PCR results," he explained.
This is not the first time officials have hinted at a possible widespread problem of false negatives. At the end of last week, the head of the Centre for Emergency Medicine, Iskender Shayakhmetov, said that paramedics are seeing a significant number of patients with negative test results who are still showing all the symptoms of COVID-19. The total number of ambulance callouts has doubled and many of them concern cases of pneumonia, which are normally almost non-existent at this time of year. According to Shayakhmetov, Bishkek currently needs 100 ambulance teams but has only 38. And some of these are unable to operate due to illness among ambulance workers themselves.
Kyrgyz state television has today assured its audience that there are sufficient beds in the country not only for official coronavirus patents but also for pneumonia patients with negative test results. 150 extra beds have been set up at the National Hospital in Bishkek and a further 200 added to the facilities at the former US military base near Manas Airport. Another 120 beds will reconfigured for use by pneumonia patients at Bishkek City Clinical Hospital No.1. This is in addition to the roughly 400 existing beds used to treat pneumonia at other hospitals in Bishkek. The city reportedly has 767 beds for COVID-19 patients, of which only 266 are currently in use.
The growing spread of the coronavirus in Kyrgyzstan follows the easing of previously strict lockdown measures in the country from 11 May onwards. There have been a number of recent reports of multiple infections in state institutions, including the Jogorku Kengesh (parliament), the government, the Central Electoral Commission and the National Bank. Kyrgyz president Sooronbay Jeenbekov recently travelled to, but was unable to take part in, Russia's Victory Day celebrations due to the discovery of COVID-19 among the Kyrgyz delegation. On 27 June, the 38-year-old head of Kyrgyzstan's Counter Narcotics Service, Oleg Zapolskiy, died from double pneumonia, though it is not yet known if he tested positive for COVID-19.