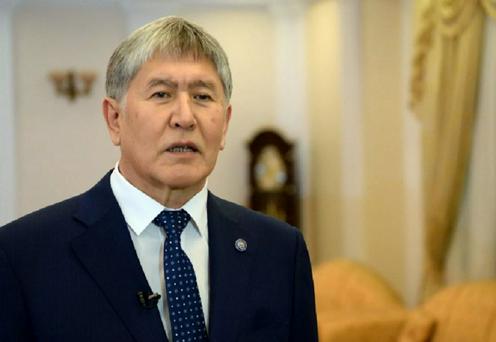 Almazbek Atambaev . Photo from Ehokg.org
Kyrgyzstan's former president Almazbek Atambaev, recently sentenced to 11 years and two months in jail, has been hospitalised with double pneumonia, 24.kg reports (in Russian).
According to a statement by the State Committee for National Security (SCNS), the jailed ex-president began complaining of feeling unwell yesterday (29 June). A COVID-19 PCR test returned a negative result. Following this, an online consultation was held with a group of doctors and Atambaev was diagnosed with double pneumonia. He is to be transferred from his detention cell to a hospital.
The SCNS point out that the former president has on several recent occasions met with relatives who have passed on various items and objects. In addition, his lawyer, Zamir Jooshev, is also said to be displaying symptoms of the coronavirus, having been in contact with relatives of his who have been diagnosed with COVID-19. The SCNS has asserted that all of their employees have been tested for the virus and received negative results. Anonymous sources yesterday spread conflicting information according to which a number of employees and inmates at the detention facility have been infected, including several defendants in high-profile cases.
Negative PCR test results seem to be far from a guarantee of being free from the coronavirus in Central Asia at present, however. Both Kyrgyzstan and Kazakhstan are currently reporting huge surges in pneumonia cases in which significant numbers of people are testing negative for COVID-19. At this time of year pneumonia cases should of course be highly unusual. Some doctors have gone on record as saying that they are sure that these people are COVID-19 patients and that the tests are inaccurate. Kazakhstan's health minister stated today that his country is currently seeing around 2,500 new pneumonia cases per day, at the same time as the authorities are only reporting around 500 new symptomatic coronavirus infections. The Kyrgyz health ministry yesterday announced that it would now be hospitalising all those with severe or moderate coronavirus symptoms before waiting for the results of PCR tests.
Problems with COVID-19 PCR tests returning worrying levels of false negatives has of course previously been reported as a major issue in Russia.
Meanwhile, even official COVID-19 statistics in Kyrgyzstan are showing a worrying trend, with reports of overfull hospitals and the country being included on a WHO list of nations showing a "very significant resurgence" of infections. Today, a new record was set for daily fatalities (7). During the whole of the first two months of the epidemic, when major parts of the country were in lockdown, total deaths remained in single figures. Last night, state TV assured its audience that there was "no reason for panic", with 900 free beds around the country. "Panic is the worst enemy", one report on state news channel Ala Too 24 stated.