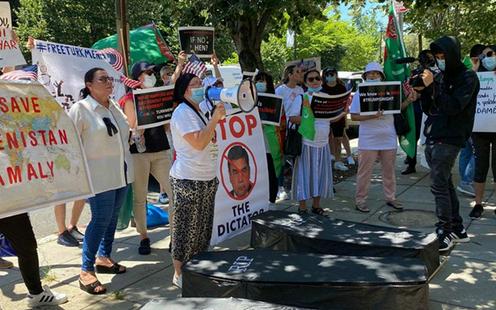 Turkmen activists outside the WHO building in Washington . Photo from Turkmen.news
Turkmen opposition activists have carried out a series of demonstrations in Washington in an attempt to draw attention to the Turkmen government's cover-up of the spread of the coronavirus in the country, Turkmen.news reports (in Russian).
Alongside protests outside of the Turkmen embassy and the US Congress building, activists carried a set of fake coffins to the Washington office of the World Health Organisation in protest at the failure of the recent WHO mission to the country to question the government's official line that the coronavirus is yet to arrive in the country. Independent media are reporting on large numbers of COVID-19 deaths in Turkmenistan, while the Turkmen government continues to ascribe lockdown measures to "harmful dust" blowing into the country from abroad. Earlier this week it was claimed that residents in one region of the country were being ordered to hide new graves from satellite imaging.
Protestors called out slogans such as "Go back and take another look!" and "The WHO is lying! Turkmens are dying". Protest organisers renamed the WHO the "World Helpless Organization".