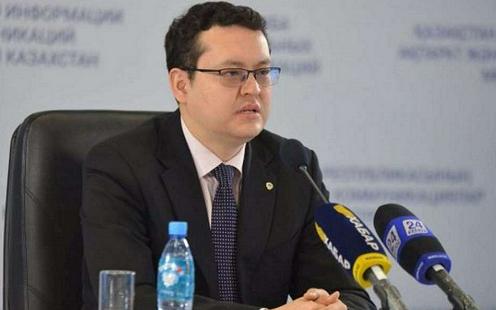 Olzhas Abishev . Photo from Egemen.kz
Deputy Health Minister of Kazakhstan Olzhas Abishev has been arrested on suspicion of embezzling state funds, Tengrinews.kz reports (in Russian), citing the press office of the Kazakh finance ministry's Committee on Financial Monitoring.
As the investigations are currently ongoing, no details of the case are currently allowed to be made public.
The head of the country's Anti-Corruption Agency, Alik Shpekbaev, had earlier announced that criminal investigations had been initiated into two highly-placed officials from the Ministry of Education and Sciences and the Ministry of Digital Development, Innovation and the Aerospace Industry. At the time, Shpekbaev stressed the unacceptability of embezzling government funds at a time when the country is busy fighting the coronavirus.
At the start of July, the Anti-Corruption Agency began investigating Kazakhstan's unified distributor of medication supplies – CK-Farmatsiya LLP. The company, which operates under the Kazakh health ministry, conducts purchases as part of a state programme for guaranteed free medical care, stores medication, and organises delivery to state healthcare facilities. Following the checks, CK-Farmatsiya's manager, Berik Sharip, was dismissed.
At the same time, a change of leadership was carried out at Kazakhstan's Social Health Insurance Fund, whose former head, Aibatyr Zhumagulov, fell into the sights of journalists after a number of eyebrow-raising social media posts made by his wife – famous TV presenter Gulbarshin Zairova, who announced that her husband had recently bought her her twelfth car.
"My husband was a tall, skinny student with a long moustache," Zairova wrote in a now-deleted post. "In my eyes he was handsome. One day he came up to me and whispered in my ear: "Darling, before you are 30 I will buy you 10 cars. At the time I thought: 'Amen, may the angels hear this'. And now, praise be to the Almighty, for my 30th birthday my husband has bought me my twelfth car," the TV presenter wrote. She had previously written posts (also now deleted) boasting about the couple's luxury mansion.
It is worth pointing out that Kazakhstan occupied 113th place in Transparency International's 2019 Corruption Perceptions Index, with 34 points. 0 points constitutes the highest level of corruption and 100 points the lowest. Kazakhstan thereby overtook Russia, at 137th place with 28 points. It was also the highest finishing country in Central Asia.