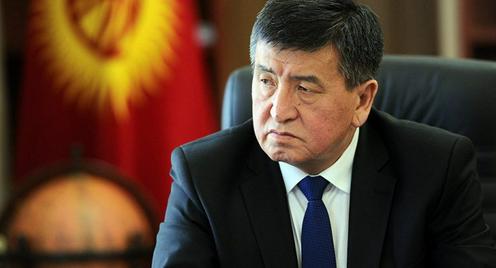 Sooronbay Jeenbekov. Photo from Tazabek.kg
Kyrgyz president Sooronbay Jeenbekov has heavily criticised the heads of the country's state agencies for "indifference" in the fight against corruption. At a session of the Kyrgyz Security Council on 24 January, he said that ordinary citizens and entrepreneurs express dissatisfaction with the work of almost all state agencies, including the Security Council's Anti-Corruption Service, the Financial Police, the State Registration Service, the State Construction and Housing Agency and other state organs offering services to the public.
"You are totally failing in the task that has been assigned to you. We see and read about individual law enforcement officials who have taken bribes, and are arrested like they are the shadowy leaders of illegal schemes. This is the result of indifference, a failure of the heads of law enforcement agencies and other state organs to take the fight against corruption within their jurisdictions seriously," 24.kg cites Jeenbekov as saying (in Russian).
After referring to cases where the implementation of anti-corruption directives in some state organs had been delayed or sporadic or even entirely neglected, the head of state spoke in detail of the case of six officials of the State Inspectorate for Environmental and Technical Safety arrested in December 2019 for systematically taking bribes from private companies in exchange for certifying buildings' compliance with safety standards.
"Practically the whole management of this state inspectorate took part in systematic bribe-taking. Those who have been arrested for the crime worked in the same building as the head office of the inspectorate, on the same floor. A department head ought to know what his colleagues are doing," he said.
"It is precisely because of such leadership that all our efforts to prevent and to wipe out corruption come to nil," Jeenbekov continued, adding that such officials "cast a shadow on the reputation of the president, the prime minister, and the state service as a whole". "And the Environmental Inspectorate incident is just one incident that has become known to the public. How many other corrupt officials are not brought to justice?" the head of state asked his Security Council colleagues.