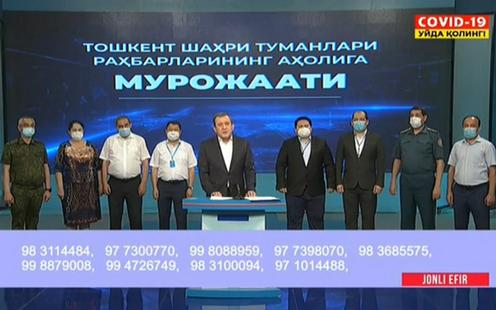 Tashkent officials during their TV appearance. Still image from Oilaviy TV
The hokims (administration heads) of all 11 districts of Tashkent assembled in the studio of TV station Oilaviy yesterday to apologise live on air to residents of the Uzbek capital for their insufficient preparation for the COVID-19 pandemic and poor performance in the fight against the virus, Gazeta.uz writes (in Russian).
"On behalf of the whole district administration, I would like to apologise to residents for failing to do our job on time in the fight against the coronavirus, which has led to the wide spread of the illness and the death of a number of families' loved ones," Sergeli district hokim Bakhtiyor Shamuratov said.
The practice of highly-placed officials making public apologies for unsatisfactory performance or coarse language has become a common phenomenon in recent years – so much so that the Uzbek word for "pardon" or "sorry" – uzr – has been the subject of a spate of memes in Uzbekistan (or Uzristan, as some internet users have renamed the country). This happened, for instance, in August last year after President Shavkat Mirziyoyev criticised the heads of several of the country's regions for illegal building demolitions. Such officials generally then keep their jobs. Last week, Mirziyoyev accused Tashkent city hokim Jahongir Artykhojaev and health minister Alisher Shadmanov of "inadequate organisation of efforts to prevent the spread of the coronavirus".
The mass apology comes amid increasing signs that Uzbekistan's coronavirus epidemic is significantly worse than reflected in official statistics. These statistics have themselves been rising quickly in recent weeks, but remain at a low level compared to neighbouring Kazakhstan and Kyrgyzstan. Announcing the new national lockdown on 10 July, a spokesman for the country's coronavirus taskforce warned that, despite the low active caseload of 3,000, the healthcare system could soon collapse if cases rise. Since then, significant steps have reportedly been taken to increase capacity. As Eurasianet pointed out yesterday, however, Mirziyoyev's declaration earlier this week that an extra 46,500 beds had been set up for coronavirus patients in recent days and another 31,000 are planned sits strangely with official figures of just 8,000 active cases. Uzbek media have generally held back from challenging the official line, which makes it hard to get an accurate picture of the true situation, but recent posts on social media paint a considerably darker picture.
As already reported, last week film director Sarvar Karimov caused shock by tweeting that his family had tried to call an ambulance for his sick father with presumed COVID-19 for a week but the emergency services would not come. His father then died. Karimov wrote that the ambulance services had refused to take his father as they had no protective gear, and later told Eurasianet that private clinics had refused to admit him on the grounds that they had no tests. Other stories on social media suggest that hospitals are already overfull. A recording of a conversation purporting to be between an operator of Uzbekistan's emergency medical line 103 and a Bukhara resident requesting an ambulance for a family member has been placed on the popular TROLL UZ Facebook page. In it the operator says that he is unable to send an ambulance because all of the hospitals in Bukhara and nearby Kogon, as well as the regional infectious diseases hospital, are already full. "So we are supposed to just treat ourselves and die?" the woman asks. "That is not the fault of 103," the operator replies. "If they provided the right conditions then we would be able to do our jobs."
"In Bukhara things are really very bad," one user writes in the comments below. "Many of my friends and relatives are sick and trying to recover at home and of course no one has taken any tests. In other words, the statistics are a lie and the number of sick people is 10 times bigger, and this is just the people with symptoms."
Another says that she knows six people who have died of COVID-19 and who do not figure in the official statistics, and that a lot of funerals are being held at present in the city. "The situation is already like in our neighbouring countries," she writes. Some who have been to hospitals in Bukhara confirm that they are are overfull and others say that the situation is the same in other parts of the country.
In later updates to his Twitter thread, after confirming that the whole of his family has now been diagnosed with COVID-19, Sarvar Karimov says that he and several of his family members were taken into a sanatorium in the Yunusobod district of Tashkent, where only three doctors were on duty. "The poor other people there were in a worse state than us. No other doctors, no injections, no machines," Karimov writes. "Give up any hope of state help."
"So what were we sitting at home for during March, April and May?" one user replying to the Bukhara audio asks sardonically. "They were, like, all this time 'preparing' for the surge of patients..."