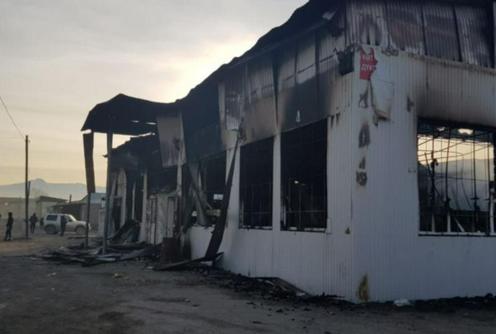 Still image from an eyewitness video from tengrinews.kz
8 people have been killed and 40 injured in inter-village clashes that broke out in the Korday district of Kazakhstan's Jambyl region on 7 February, KazTAG reports the country's internal affairs minister Erlan Turgumbayev as stating (in Russian).
He also confirmed previous unofficial reports that the centre of the disturbances was the village of Masanchi, a settlement known to be 90% populated by the country's Dungan ethnic minority, and that residents of neighbouring villages had participated in the clashes. "On 7 February at 19.00, the Jambyl regional police department received information that more than 70 people were involved in fighting around Masanchi aul in Korday district. Police officers were immediately dispatched to the scene. People filmed the events and spread them on social media. More than 300 people came from other auls and joined in the fighting," the minister announced.

He added that some of those involved in the fighting had put up resistance to the police, and that two officers were being treated for gunshot wounds. More than 30 buildings, 15 stores and several dozen cars have been damaged following widespread arson. 47 people are understood to have been arrested.
No details were given in the official announcement about the causes of the clashes. Reports of an interethnic conflict are circulating on social media sites, but no mention of this is made in official sources. Unofficial information suggests that the clashes began as a dispute between residents of neighbouring villages. The president of the Dungan Association of Kazakhstan, Husei Daurov, said that groups of people had come to Masanchi and started attacking local residents, setting fire to buildings and cars. According to Daurov, who claims to have been beaten up himself, it was only with the arrival of army units at 5.30 am that the situation was truly brought under control.
According to Radio Liberty's Kazakh website Azattyk, the conflict also spread to the neighbouring villages of Aukhatty and Bulan-Batyr. Fergana's correspondent in Almaty reports that armed police and National Guard units have been sent to the Zarya Vostoka district of the city, an area with a large Dungan population, following social media calls for violence against Dungans there. A number of streets and markets in the area have been closed and police patrols are circulating. As of midday on 8 February, there are no reports of violence there.
Messaging service Whatsapp was reportedly blocked in Kazakhstan for a number of hours between Saturday night and Sunday morning. Kazakh President Kassym-Jomart Tokayev has called on the authorities to "take the necessary steps to investigate the incident and hold accountable those calling to interethnic discord and spreading provocative rumours and misinformation".

Larger than normal flows of people have meanwhile been reported at the nearby border crossing into Kyrgyzstan.