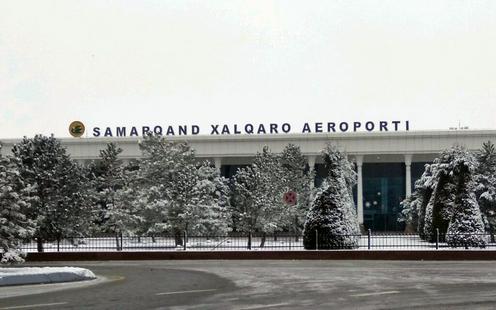 Samarkand airport . Photo from yandex.maps
The current expansion of the international airport at Samarkand in Uzbekistan will allow the airport to increase the number of flights it serves by seven times – from 40 a week to 40 a day. The reconstruction of the airport is scheduled to be completed by the end of this year, local newspaper Samarkandskiy Vestnik writes (in Russian).
The expansion work will allow the airport to receive all types of aircraft without exception. A new four-storey airport building (the current one is two-storeys) will be built, complete with a duty-free shop and VIP and CIP lounges for passengers. The number of employees at the airport will increase from 630 to almost 1000.
The expansion of the airport at Samarkand – which boasts some of Uzbekistan's top tourism attractions – is part of an ambitious drive to increase tourism in the formerly closed Central Asian country by new president Shavkat Mirziyoyev. Besides making it easier for foreign tourists to acquire visas and travel in the country, a number of reforms have been introduced in the air travel sector to boost both the capacity and the competitiveness of the country's air travel industry. In 2019, there was a 25% increase in foreign visitors to Uzbekistan, and the country was named the fourth fastest growing tourism market in the world.