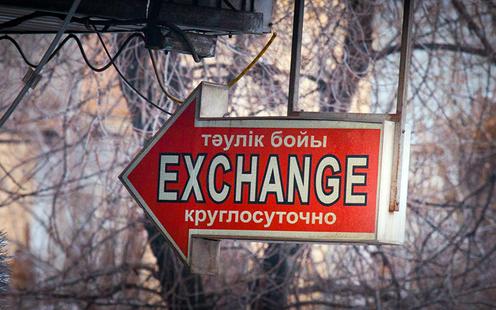 A money exchange sign in Kazakhstan. Photo from Kapital.kz
The Kazakh government will introduce price controls on socially sensitive goods and services and will not allow delays in salary payments and layoffs in response to the current crisis in the global oil market, a special joint statement by the government and the National Bank of Kazakhstan has announced (in Russian).
"Differences between major OPEC+ oil exporters on the limiting of oil production have led to a significant fall in global oil prices. In these circumstances, the government and the National Bank affirm that the maintenance of social and macroeconomic stability in the country remain the priorities of government policy," the statement says.
A special team has been formed under the leadership of the country's prime minister to take the necessary measures to defuse the crisis. Besides the prevention of undue price increases, the authorities have promised to reduce non-priority budget expenditure and emphasised that all of the government's energies would be directed to fully delivering on its social commitments.
The national bank plans to ensure price stability through a tightening of monetary policy "by raising the base rate and conducting an appropriate exchange-rate policy". In order to stabilise the foreign exchange market, the financial regulator will intervene in currency markets. "The National Bank disposes of a sufficient level of gold reserves, as well the necessary instruments, including regulatory, to prevent speculative trading on the Tenge's exchange rate," the statement says.
Earlier today, Kazakh president Kassym-Jomart Tokayev convened a meeting at which he directed the government to draw up an anti-crisis plan and to introduce measures to guarantee the safeguarding of jobs, including at large enterprises. The necessary amendments will be made to the budget for 2020-2022.
The fall in global oil prices followed the failure of OPEC+ member countries (oil-producing countries, including Russia) to reach an agreement on lowering production. The steep drop in oil prices from $45 to $31-32 a barrel led to sharp falls on stock markets around the world. The London FTSE 100 slumped 8.54% on opening, the German DAX fell 8.09%, and the French CAC 40 6.31%. Hong Kong's Hang Seng dropped 4.07%, Tokyo's Nikei 225 fell 5.77%. The Shanghai Stock Exchange's Composite Index fell 2.11%. Against this backdrop, the price of the dollar and the euro rose at currency exchanges across Kazakhstan. According to Kurs.kz, the average price of the dollar (at the time of writing) stood at 390.65 Tenge, and the euro 440.62 Tenge. In Almaty, the rates were 391.92 and 445.58 respectively. Many exchange bureaus stopped selling the two currencies.