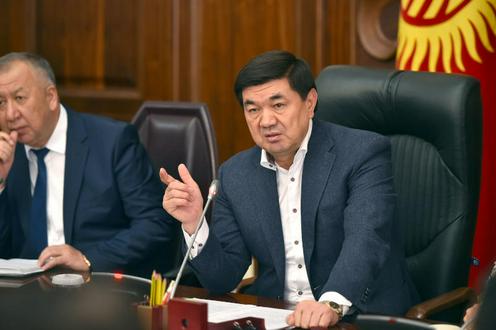 Kyrgyz prime minister Mukhammedkalyi Abylgaziyev. Photo from the website of the government of Kyrgyzstan
Kyrgyzstan has declared a national emergency, to last for one month, the press office of the country's government has announced (in Russian). The decision was taken at a session of the Kyrgyz Security Council on the fight against the spread of the COVID-19 coronavirus.
The state of emergency is to commence on 22 March. The government announced that it would work on the basis of an established action plan to coordinate the activities of state agencies.
"The plan includes arrangements for the deployment of checkpoints in the capital and in the regions, sets out supply routes for essential goods and medication, and regulates the operation of domestic flights and public transport and the work of food stores and pharmacies. We have no problems with the supply of goods from abroad, so nowhere in the country should the public encounter shortages of any food products or medication," said Kyrgyz prime minister Mukhammedkalyi Abylgaziyev.
Previously, Kyrgyzstan has suspended international flights (both inbound and outbound) for an unspecified period, with the exception of cargo flights, charter flights and passenger flights on certain routes (Aeroflot's Moscow-Bishkek-Moscow service, Avia Traffic Company's Osh-Moscow-Osh service and S7 Airline's service Novosibirsk-Bishkek-Novosibirsk).
Deputy Prime Minister Kubatbek Boronov said that, following the introduction of a state of emergency in Kyrgyzstan, "all movements will be brought to a minimum". No official transport limitations on a national level, however, have yet been decided, Boronov added.
Earlier today (21 March), public transport in both Bishkek and Karakol was suspended for one month.
24.kg reports that, in connection with the declaration of a state of emergency, vehicles mounted with loudspeakers are patrolling the streets of the country, urging people not to leave their homes unless strictly necessary.
According to the latest information on 21 March, Kyrgyzstan has 14 official cases of the COVID-19 coronavirus. One of the infected individuals returned to the country from France, the others are reportedly all pilgrims returning from Saudi Arabia.