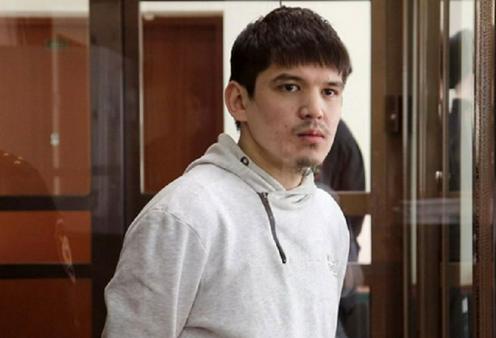 Bekjan Sarbishev. Photo from Moscow City Court
Kyrgyz national Bekjan Sarbishev has been sentenced to 16 years in jail for a car-ramming attack on a group of pedestrians in Moscow in 2018. The sentence was announced on the website of Moscow City Court (in Russian).
Sarbishev was born in Kyrgyzstan's southern Osh region and moved to Russia with his family in 2003, where both he and his family acquired Russian citizenship. In the early hours of 9 September 2018, the then 20-year-old Sarbishev was celebrating his sister's eighteenth birthday at the Aura café and nightclub in Moscow together with friends and relatives. At some point, a group of other Kyrgyz migrants started to bother Sarbishev's sister and her friends. Sarbishev stepped in to protect his sister but was beaten up in the process.
The men took his mobile telephone and the hearing aid that he depended on for his hearing. Sarbishev's father, Isa Jujubayev later stated that this caused his son serious distress. "Without his hearing aid, my son lost it, he freaked out. It started ringing in his head, in his ears. He was screaming because he couldn't hear," his father said.
Ultimately, Sarbishev decided to take revenge. He waited for his attackers outside the nightclub and ploughed into them with a car. One person died and another ten (including an underage girl born in 2001) were hospitalised. Damage was incurred to the car Sarbishev was driving (which was not his), as well as another vehicle and a floodlight pylon. Sarbishev did not attempt to flee the scene of the incident. Tests showed that he was not under the influence of alcohol or drugs.
The court found Sarbishev guilty of murder, attempted murder, and wilful criminal damage. The jury was split as to the presence of mitigating circumstances in his case, and by Russian law this works in the defendant's favour. The prosecutor had sought a sentence of 19 years and one month, but the judge settled on 16 years.