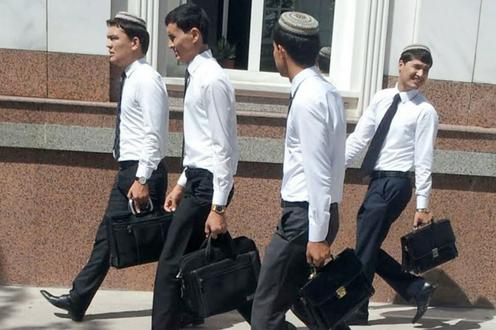 Photo from rferl.org
The authorities in Turkmenistan's capital Ashgabat have started arresting people for discussing the COVID-19 coronavirus in public, RFE/RL's Turkmen service Azatlyk reports (in Russian). Plainclothes informants of the security services are being used to eavesdrop on people's conversations in the streets.
"Special plainclothes individuals are listening to conversations in queues, at bus stops and on public transport. No one knows what happens to those who are arrested," Azatlyk's source said. It is not a matter of the dissemination of false information in order to spread panic, as is punishable in other countries in the region (earlier today just such a charge was brought against a news site in Kyrgyzstan for publishing rumours about a coronavirus death). According to Azatlyk, people can be arrested "for any kind of conversation on the topic".
The authorities in Turkmenistan seem to be doing their best to ensure that the coronavirus pandemic does not become too prominent in people's minds. Mention of the virus was recently removed from a government anti-epidemic leaflet. Earlier, the government tried to prevent the spread of panic among the population by banning the wearing of medical masks by the public, considering them "an incitement to panic".
Significant measures to prevent the spread of the virus are being implemented in the country, but they are not being covered by the official media. Semi-official media outlets are reporting on the COVID-19 pandemic as part of their foreign coverage only. At entrances to banks, government buildings and similar places in Ashgabat, disinfectant dispensers (with hand sanitiser gel, wet-wipes and oxoline ointment) have appeared for visitors, with shortages of these products being reported in pharmacies and stores. According to Azatlyk's source, no one is forcing people to use the dispensers.
In March, severe restrictions were introduced on domestic travel in the country, and only those registered in the capital Ashgabat were being allowed into the city. Later, this last measure was reduced to requiring people to have their temperatures checked on entry. In order to travel inside the country, alongside special permission stating their reason for travel, people are being required to provide medical certificates showing the results of lung X-rays and blood tests. The movement of export, import and transit goods inside the country has also been restricted.