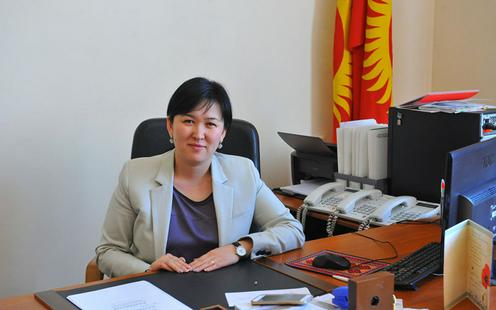 Aliza Soltonbekova. Photo from the press office of the Kyrgyz government
Kyrgyzstan's deputy minister of labour and social development, Aliza Soltonbekova, has said that 1.8 million people in the country could lose their jobs as a result of the coronavirus epidemic, 24.kg reports (in Russian).
The total population of Kyrgyzstan is 6.5 million. Given the extent of informal employment and labour migration in the country, it is difficult to say what proportion of the working-age population in the country this figure represents. According to data from the National Statistical Committee of Kyrgyzstan, in 2018 there were 2.4 million working-age individuals in employment and 70,800 people registered unemployed.
According to Soltonbekova, the labour ministry made the prognosis as part of work to assess the numbers of individuals likely to require assistance. Government assistance, however, is not to be provided in the form of benefit payments, but instead exclusively in the form of food products, above all flour. Soltonbekova said that the areas most urgently in need of assistance were the so-called "new settlements" (novostroyki) – illegally-built enclaves in the suburbs of Bishkek. The labour ministry is currently drawing up a list of those in need in these areas.
Meanwhile, RFE/RL's Kyrgyz service Azattyk has reported on the dire economic situation resulting from the state of emergency in Bishkek. Azattyk writes that almost all small businesses in the capital are already on the verge of bankruptcy and mass redundancies are already underway. The news outlet also underlined the possible effects on the state budget and on the rest of the country, pointing out that more than a third of total state revenue in 2019 ($750m out of $2bn) was collected in Bishkek, yet only $106,000 of this sum spent in the capital itself.
Yesterday, the Kyrgyz government unveiled a series of anti-crisis plans to fight the economic effects of the coronavirus lockdown, focused on increasing access to loans for businesses and deferred loan and tax payments. The government's social plan centred above all on food security, with Prime Minister Mukhammedkalyi Abylgaziyev noting that 5,000 tons of flour had already been earmarked for vulnerable segments of the population and promising "targeted social assistance to low-income families in the form of food packets".
According to the latest information on 2 April, Kyrgyzstan has 116 confirmed cases of the coronavirus and no official fatalities. Most of the cases so far have been in the south of the country, with many of the original cases individuals returning from the hajj pilgrimage in Saudi Arabia. Bishkek and the southern cities of Osh and Jalal-Abad, together with a number of rural districts in the south, are under lockdown, with almost all economic activity at a standstill in Bishkek and nightly curfews in place there.