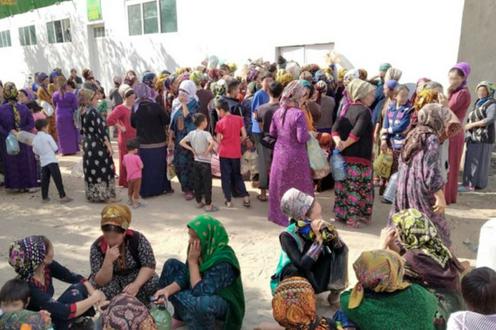 Queuing for cooking oil at a village in Mary. Photo from Rferl.org
Following the introduction of restrictions on movement within Turkmenistan, residents of the country's provinces are facing increased shortages of food products sold at a fixed government price, RFE/RL's Turkmen service Azatlyk writes (in Russian).
When residents of one etrap (district or county) travel to another in search of bread, they are fined 5,000 manats ($1,429 at the official government rate; around $250 dollars at black market rates) for violating quarantine measures. "People simply don't have that kind of money," Azatlyk's correspondent said.
In the Lebap velayat (region) and in the Darganata and Sayat etraps there are shortages of flour and oil. Customers are being sold a maximum of 2kg of flour and 3 litres of unrefined cottonseed oil per buyer, when the previous standard for flour was 5kg for each Turkmen citizen.
Residents of Dashoguz, according to Turkmen.News, have been unable to withdraw cash for a month, and queue for hours at ATMs. Many ATMs, especially rural areas, have simply been disabled. Only machines at the police station, the state prosecutor's office, and the ministry of national security are regularly filled with sufficient funds.
Food and cash shortages in Turkmenistan are a consequence of the protracted economic crisis the country has been experiencing since 2016. Now the situation has been exacerbated by the fall in global oil prices and the COVID-19 pandemic. In March, the Turkmen government closed access to Ashgabat and introduced restrictions on movement between the country's regions. In order to travel from one velayat to another, people need to obtain hospital certificates showing the results of lung X-rays.
In other coronavirus news from Turkmenistan, it has been reported (also by Azatlyk) that the authorities in Ashgabat are poisoning cats with a new type of poison in the fight against COVID-19. One animal rights advocate in the city told the news outlet that the new substance makes cats stand bolt upright on their hind legs "like gophers" and hiss before dying. The mass culling of stray animals (and apparently all cats) in Ashgabat in connection with the coronavirus began back in February. The potential for household animals to pass on the coronavirus has not been extensively studied, though there have been cases (for example here) of pet cats and dogs contracting the virus.
It is unlikely, however, that the Turkmen authorities were moved to take this measure out of scientific conviction. The culling of stray animals in major cities in Turkmenistan is a regular occurrence, particularly ahead of major holidays and celebrations.
Officially, no cases of COVID-19 have yet been confirmed in Turkmenistan. According to an online map by Johns Hopkins University, besides Turkmenistan and Tajikistan, the only remaining coronavirus-free countries in the world are a number of small island states (Palau, Nauru, the Federated States of Micronesia, etc.), a few countries in Africa, and Yemen.