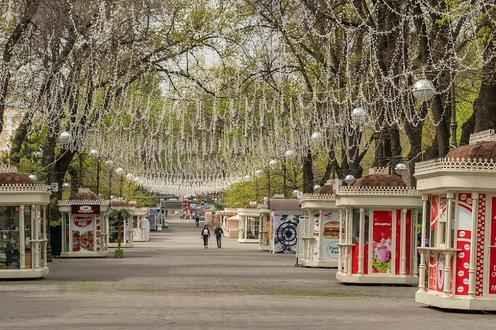 An empty public space in Tashkent. Photo by Andrey Kudyashov, Fergana
From 6 April, strict stay-at-home orders in Uzbekistan will be extended to cover all sections of society rather than just the elderly, the Uzbek government's official coronavirus channel on Telegram, Koronavirus Info, has announced (in Uzbek), citing a decision of the Special Republican Commission to Fight COVID-19. In Tashkent, Nukus, and all regional capitals, people will only be allowed to leave their homes to go to work, to buy food and medication at nearby stores and pharmacies, and to visit the doctor. Earlier, on 1 April, such restrictions were made obligatory only for those over 65 years of age.
As reported previously, the government had already ordered the public not to leave their homes unless strictly necessary over a week ago. The significant addition in today's announcement would seem to be the threat of legal repercussions, though no specific penalties were mentioned.
Today's announcement also stressed that while walking (public transport is, of course, suspended and private vehicle travel has been banned) in the streets and in stores and other public places, members of the public are required to maintain a social distance of 2 metres.
The Special Commission has also decided to equip the entrances and exits of major food markets and shopping centres with hand disinfectant dispensers and contactless devices to measures body temperature. Those with a temperature of over 37 degrees will not be allowed entry.
The temporary ban on the use of private vehicles has also been extended to include bicycles and scooters. Earlier, all passenger transport between the country's regions was suspended, with only goods transport permitted. Travel by private vehicle in Tashkent, Nukus and all regional capitals is possible only with a special sticker. On 4 April, the application service for these stickers was temporarily suspended for two days due to excessive demand. Vehicles circulating without such stickers can be impounded.
While introducing the earlier stay-at-home order for the elderly on 1 April, the government simultaneously banned private individual assistance to old people, such as food and medicine deliveries. It was argued that carrying out such private assistance without observing sanitary regulations could increase the spread of the virus. Instead, people were asked to contribute to a special fund under the Ministry for the Support of Mahallas (local community bodies) and the Family, which will direct aid to those in need via special coordination centres.
Social assistance is to be provided for low-income families, the elderly, the unemployed, and the families of those without permanent employment unable to work due to quarantine measures.
At present, Uzbekistan has reported 390 cases of the coronavirus and two deaths.