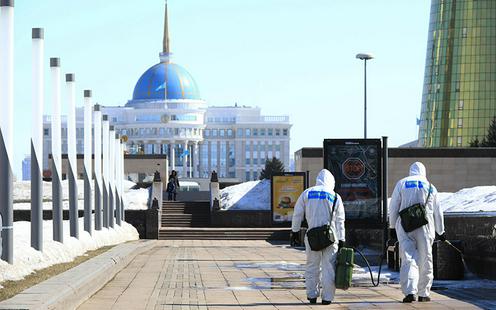 Disinfection of streets in Nur-Sultan.. Photo from the press office of the Ministry of Defence of Kazakhstan
Kazakh president Kassym-Jomart Tokayev has decided to extend the current state of emergency in the country until the end of April, according to a statement on the Facebook page of the head of state's press secretary, Berik Uali.
"On 15 April, the period of my decree on the introduction of a state of emergency expires. It is already clear that the state of emergency will have to be extended at least until the end of April. We are still yet to reach the peak of coronavirus infections. We must not take the epidemic lightly," Uali cited Tokayev as declaring at a session of the State Commission for the State of Emergency.
For this reason, the president has charged the government with extending the lockdowns in Nur-Sultan, Almaty, Shymkent and their wider regions until the end of April. "I understand that this is an unpopular decision, since people want to go out on the streets and resume their normal lives. But there is no option but to keep observing quarantine measures and self-isolation. This is the advice of local and international virology experts," Tokayev said.
Kazakhstan has been under a nationwide state of emergency due to the coronavirus epidemic since 16 March. All major public events have been banned and busy public sites closed. Restrictions on entering and leaving the country are in place. Nur-Sultan, Almaty and Shymkent have been closed off for quarantine, almost all businesses there are closed and people are allowed out only to buy groceries and medicine or to go to work. Restrictions are also in place in other towns and districts around the country.
According to the latest statistics, 802 cases of COVID-19 have been confirmed in the country and 9 people have died. Testing remains below that of most European and many Asian countries.