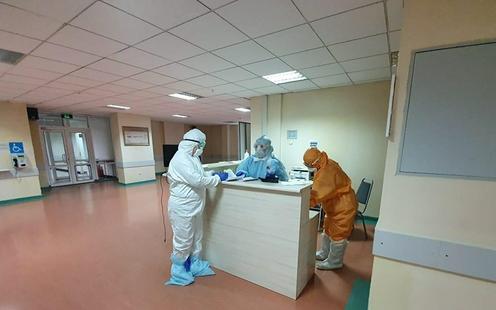 At a hospital in Almaty . Photo from Kapital.kz
174 new cases of the COVID-19 coronavirus have been recorded this morning in Almaty, 116 of them healthcare workers. The announcement was made earlier today by the city's public health department, Fergana's correspondent reports.
Among the 116 medical workers, fully 110 are staff at the city's central clinical hospital.
The number of healthcare workers infected by the coronavirus in Kazakhstan has been growing rapidly, particularly in Almaty. Another 27 cases were reported yesterday in the country's former capital. Two of the medical workers are said to be in a serious condition, the others satisfactory.
"The infections could have come from patients, since they (the medical workers – ed.) have been providing emergency medical assistance. Among the patients may have been people with asymptomatic infections. An epidemiological investigation is currently being conducted on this point," said health department head Toleukhan Abildayev.
Yesterday, Almaty's chief sanitary doctor stated that one of the reasons for COVID-19 infections among healthcare workers "is their failure to observe all safety procedures". Ayzat Moldagasimova's statement was cited by the television channel Almaty. The news was quickly removed from the TV station's website, but not before being spread by all of the country's major news agencies.
In turn, medical staff at the city's central hospital accused Moldagasimova of slander and wrote a letter to Kazakh president Kassym-Jomart Tokayev asking him to look into the matter.
Given that it was reported yesterday that 211 healthcare workers had by that point contracted the coronavirus, this would appear to raise the proportion of medical staff in Kazakhstan's total number of cases to 327 out of 1,179, or nearly 28%.