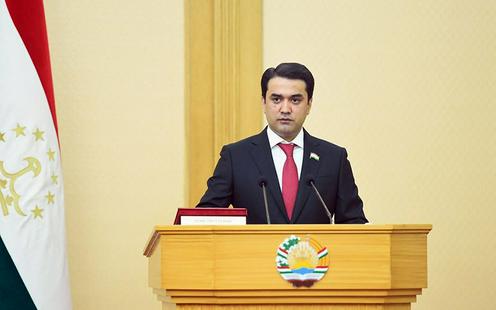 Rustam Emomali . Photo from President.tj
Tajik president Emomali Rahmon's 32-year-old son, Rustam Emomali, currently mayor of the capital city Dushanbe, has been elected speaker of the Majlisi Milliy, the upper chamber of the Tajik parliament. Fellow senators unanimously approved Emomali as senate speaker after a secret ballot, the press office of the president of Tajikistan reports (in Tajik).
The Dushanbe mayor thus officially becomes the second most powerful figure in the country, after his father, the president. In the event of the latter's resignation, death or indisposition, he will take over leadership of the country. As chairman of the senate, he replaces Mahmadsaid Ubaidulloev, who has been speaker since the year 2000.
Rustam Emomali, Emomali Rahmon's eldest son, was elected a member of the Majlisi Milliy on 27 March this year. He has been head of the municipal administration in Dushanbe since January 2017. Prior to this, he headed the Agency for State Financial Control and Combatting Corruption. In 2016, an amendment was made to the Tajik constitution, lowering the required age for presidential candidates from 35 to 30. This would allow Rustam Emomali to run in the presidential elections scheduled for November this year.
The Tajik Majilis Milliy is composed of 33 members, 25 of them elected by secret ballot by regional council deputies and another 8 are appointed directly by the president. Former presidents automatically become senators unless but may waive this privilege.