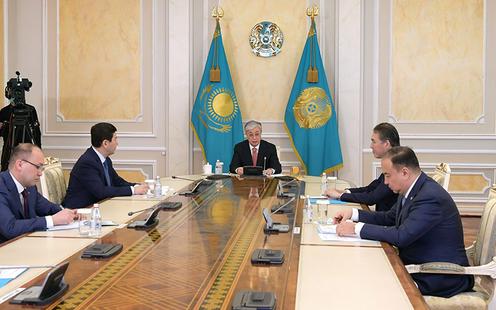 The session of the Commission to Oversee the State of Emergency. Photo by the press office of the Akorda
Kazakh president Qasym-Zhomart Toqaev has today announced new measures for the gradual easing of lockdown restrictions, stressing that an overall lockdown exit strategy would be tailored to improving conditions in different regions around the country.
The national state of emergency that was declared across Kazakhstan on 16 March officially came to an end today, 11 May. The strict lockdown measures in place in cities such as Nur-Sultan and Almaty, however, are to remain in place and be scaled back only gradually, dependent on how the epidemiological situation in the two cities develops. In a speech to the nation on 4 May, Toqaev had already warned that this would be the case.
The continuation of quarantine measures after the end of the state of emergency raises the issue (already seen elsewhere, such as in Russia, where opposition voices have accused the government of infringing the constitution by introducing severe restrictions on public freedoms without invoking a state of emergency) of the exact relation of quarantine measures to a state of emergency. As Zakon.kz points out, the Kazakh law relating to states of emergency mentions quarantine as one form of "additional measures and temporary restrictions" under a state of emergency. Legally, the website says, all checkpoints should therefore be dismantled and restrictions on free movement lifted as soon as the state of emergency expires. The municipal authorities in both Nur-Sultan and Almaty, however, have been clear that this was not going to happen.
"On 11 May, the capital will remain under quarantine because the quarantine has not been lifted. This means that only those enterprises which have received permission to operate are allowed to do so. The checkpoints will not be removed yet, and public transport will not resume on 11 May," it was stated yesterday on the Nur-Sultan municipality website.
In Almaty and Shymkent, internal checkpoints have been dismantled and residents are being allowed to drive to their dachas (as long as these are located within the wider Almaty and Shymkent regions). Checkpoints around the city perimeter, however, remain in place and only companies in set branches of the economy are allowed to operate. In Almaty, public transport is running between 6 am and 7 pm, but only employees of companies and organisations permitted to operate are allowed to move around the city.
Announcing the latest steps for a staged easing of restrictions, Toqaev said that the Commission to Oversee the State of Emergency is being transformed into a State Commission to Restore Economic Growth.
"Today, the national state of emergency has come to an end. However, in a number of regions the threat of infection remains. The epidemic has not been defeated entirely. The pandemic continues to pose a danger to public health," the head of state said. The lifting of lockdown measures will therefore depend upon the improving situation in different regions of the country.
Toqaev said that more than 1.1 million Kazakhs have already returned to work in branches previously permitted to resume operations. From 11 May, certain kinds of stores, along with beauty salons, parks and educational centres will be reopened. Flight connections will also be gradually resumed. Airports in six cities have already been reopened; now another seven airports are to resume operations.
"At the same time, restrictions on movement between regions will be maintained. Public transport will operate at half capacity. Passengers are required to wear masks. No more than three people should walk together in the streets. Fifty percent of state employees will work from home," the president added, underlining that social distancing and the wearing of face masks in public must become standard behaviour.
Toqaev also warned that the country could still be hit by a second wave of COVID-19, adding that the government was currently drawing up a plan of action in case this happens.
Toqaev's latest comments come shortly after a number of other measures were announced by the country's chief medical officer. The day before the state of emergency was due to expire, Aizhan Esmagambetova signed a decree entitled "On the strengthening of measures to prevent coronavirus infections among the population of the Republic of Kazakhstan".
The document tasks akims, the heads of regional healthcare departments, and the authorities in Almaty, Nur-Sultan and Shymkent with ensuring that all people entering Kazakhstan from abroad are kept at a quarantine facility for 48 hours after arrival, while they are tested for COVID-19. Public events in these cities are still banned and shopping centres and religious sites are to remain closed. Disinfection work in public places, airports and children's playgrounds is to continue.
If the COVID-19 infection rate remains below 7% for seven days, Kazakhs will be allowed to leave their homes (while being required to wear masks if walking together with others), visit parks and squares, and travel between regions by plane. Children's day-care centres and kindergartens will also resume their work.
To date, Kazakhstan has reported 5,160 cases of COVID-19 and 32 deaths. Nur-Sultan and Almaty account for just over half of all cases.