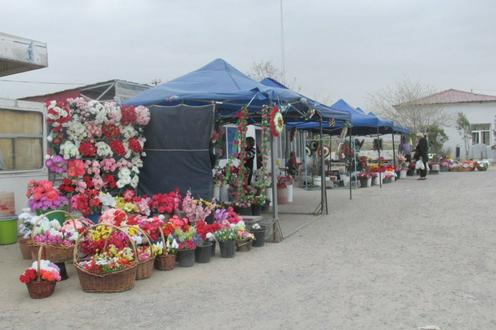 The Choganly cemetery on the outskirts of Ashgabat. Photo from Azathabar.com
Cemetery workers and funeral services employees in the Turkmen capital Ashgabat have reported a sharp rise in the numbers of burials in recent weeks, RFE/RL's Turkmen service Azatlyk writes (in Russian). The news outlet's correspondents have also made fresh claims that coronavirus patients are being treated at the city's infectious diseases hospital.
"Workers at the cemetery in Choganly and funeral services employees say that over the last five weeks the number of burials has increased. In the 'Russian' section of the cemetery alone around 12 people are being buried each day, with numbers in the main Muslim part many times higher. The morgues are overwhelmed. Priests [sic] are performing burial services one after the other," the website's source said (Azatlyk's article says that correspondents are reporting rising burials at cemeteries in the plural, though quote given only mentions the Choganly cemetery).
Correspondents say that doctors are not providing relatives with concrete causes of death, generally informing them only that it was due to "a lung illness".
"I know of a case where an elderly man was in a coma for 9 days before dying. Many people are being told that their relatives have died from a lung illness. Another man was buried on Sunday, a young guy. Other people I know buried their relative ten days ago, there were many funeral vehicles there and they had to queue," one correspondent in Ashgabat told Azatlyk.
Azatlyk's correspondents are also reporting that coronavirus patients from around the country are being transported to the infectious diseases hospital in Ashgabat, itself located in Choganly. This is not the first time claims have been made that COVID-19 patients are being treated at this same facility. At the start of March, one of the hospital's employees told Azatlyk on condition of anonymity that at least two Turkmen nationals who had tested positive for the virus were receiving treatment there. On several occasions in March and April, Azatlyk and other independent news outlets based outside of Turkmenistan have reported the existence of coronavirus patients in hospitals in Ashgabat and Turkmenabad, most recently Chronicles of Turkmenistan's claim that seven people who have tested positive for the virus are being held in a quarantine camp in Turkmenabad.
Azatlyk adds that the authorities are conducting temperature checks on people entering Ashgabat and carrying out regular disinfection work at marketplaces ad on public transport. At the same time, no social distancing measures have been implemented and people are being punished for wearing face masks and made to attend crowded public celebrations. Chronicles of Turkmenistan has published a video of queues at one marketplace in Ashgabat, showing how people are crowding together without any protective gear.
The authorities in Turkmenistan continue to deny the presence of COVID-19 in the country but have refused to issue an invitation (required by protocol) to allow entry to a WHO mission intended to check on the epidemiological situation in Tajikistan and Turkmenistan. The Tajik authorities officially acknowledged their first COVID-19 cases the day before the arrival of the WHO mission there.