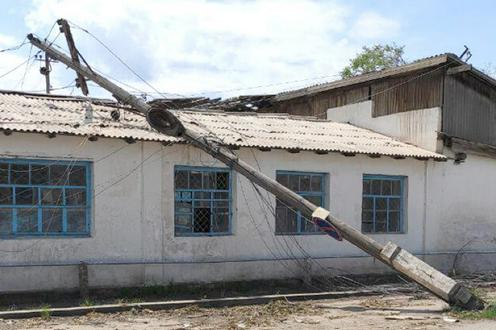 Damage from the hurricane in Turkmenabad . Photo from Turkmen.news
Following a four-hour long protest by angry residents in Turkmenabad, the administrative centre of Turkmenistan's eastern Lebap region, the city authorities immediately set about pumping flood water out of local residents' basements and repairing their homes, Turkmen.News writes (in Russian).
As previously reported, the Turkmen authorities took over a week to respond to the devastating hurricane that struck the east of the country at the end of last month, killing at least 30 people. Instead they arrested those taking photos of the damage, while offering aid to victims of the dam-burst in Uzbekistan and coronavirus-hit Russia and Afghanistan. Local residents were subsequently hit by torrential rains.
According to Turkmen.News, around a thousand people, mostly women and children, took part in the demonstrations, occupying one of the city's main avenues. The journalists explained the absence of men in the protests by the fact that "men are scared because they will immediately be arrested, but women and especially children are normally left untouched".
Officials and the security services immediately approached the crowd and asked people to disperse, assuring them that their problems would be resolved immediately. A short three-second video showing the number of people involved in the event was published on the YouTube channel of opposition politician Khalmurad Soinov.
The protestors complained above all about the lack of electricity for the last two weeks, flooded basements in apartment blocks, and the overwhelmed sewage system which has left their courtyards submerged in waste. On the very same day, special equipment was brought in to remove the sewage and pump water out of the flooded sewers and basements, though the electricity supply has still not been restored.
The difficulties have been compounded by a lack of equipment. Local residents say that until now the municipal authorities have focused on pumping water out of the homes of local officials and their families.
Another opposition news outlet, Chronicles of Turkmenistan, provides a slightly more consensual picture of the alleged demonstration, describing it as a "meeting of municipal employees with local residents" that was preceded by the intercession of local elders. Repairs on council-owned housing will reportedly be paid for by the government, while the authorities will offer private home owners low-cost loans.
The hurricane hit the Lebap region of Turkmenistan and the Bukhara region in Uzbekistan on 27 April. The damage in the Bukhara region has been assessed at $14 million. Uzbek state TV has been busily showing images of President Mirziyoyev visiting Bukhara and handing out orders for repair work. In Turkmenistan, the authorities instead did their best to prevent information on the hurricane from emerging, closing roads into Turkmenabad and arresting those recording the damage, with the official media avoiding mention of the disaster for over a week.