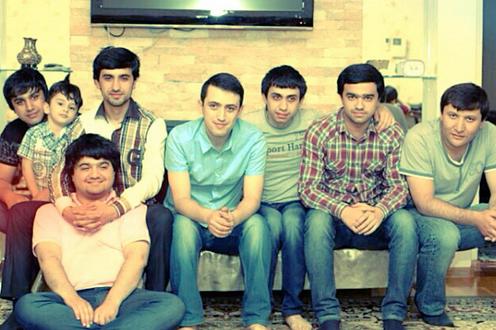 Members of Zayd Saidov's family. Photo from Asiaplustj.info
The Tajik authorities have confiscated a business centre in Dushanbe belonging to former minister of industry, businessman and opposition figure Zayd Saidov, currently serving a 29-year jail sentence. Saidov's son Khayrullo made the announcement on his Facebook page.
"This was the only source of income for a family of over 30 people," Kharullo Saidov wrote in the post.
Zayd Saidov was arrested at Dushanbe airport on 19 May 2013 upon returning from France – immediately after he had announced the formation of an opposition party called "New Tajikistan".
A Tajik court sentenced Saidov to 26 years in jail on charges of fraud, bribery, rape, polygamy and unlawful deprivation of liberty. All industrial enterprises fully or partly owned by him were confiscated and nationalised. A further three years were later added to his sentence for forging documents during the construction of the Dushanbe Plaza shopping mall and for the illegal privatisation of Tajikatlas during his time as the country's minister of industry.
Human rights groups have repeatedly asserted that the charges against Saidov are politically-motivated and demanded his release. The UN Human Rights Committee (OHCHR), which looked into Saidov's case in 2015, came to the conclusion that the Tajik government had violated a number of provisions of the International Covenant of Civil and Political Rights (ICCPR) and recommended a review of the sentence. Tajikistan, however, refused to comply.
Saidov's family have recently appealed for his release in connection with the COVID-19 pandemic, stating that the 62-year-old former minister has shown symptoms of the virus. A justice ministry representative responded in an interview with Sputnik that he had personally checked on Saidov's health and that the jailed politician was now "back on his feet".